Leavenworth couple faces charges after allegedly fleeing officers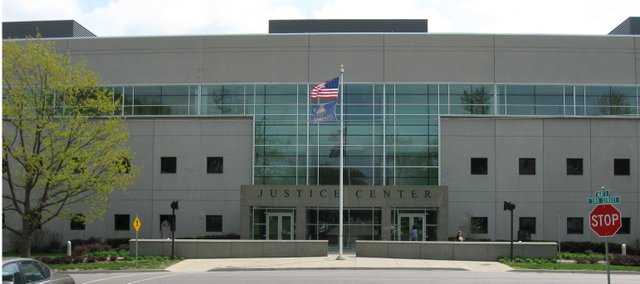 Charges have been filed in Leavenworth County District Court for two Leavenworth residents alleged to have shot at and fled law enforcement officials last week.
Anthony Robertson, 33, and Shauntel Cornelius, 29, had their first court appearance Monday at the Leavenworth County Justice Center.
Robertson faces charges of aggravated assault of a law enforcement officer by using a deadly weapon, criminal discharge of a firearm at an occupied vehicle, criminal possession of a firearm by a convicted felon and fleeing and attempting to elude a police officer. Cornelius faces charges of aggravated assault of a law enforcement officer, interference with a law enforcement officer and littering.
The charges stem from incidents reportedly occurred July 6.
A Leavenworth County Sheriff's Office patrol deputy, about 4:45 p.m. Friday, observed a black S-10 truck run a stop sign at 207th and Kansas Highway 92. The vehicle overcorrected as it sped through the stop sign and entered the officer's lane, according to reports.
The deputy pursued the vehicle west on K-92. Robertson allegedly fired several shots out of the fleeing vehicle as the pursuit continued west. Cornelius, a passenger, reportedly threw items from the bed of the truck to include a tire and toolbox out onto the road in an apparent attempt to wreck the officer's car.
The pursuit turned off K-92 and headed south on 235th Street until it then turned onto 4-H Road headed west. The pursuit crossed over 243rd Street and ended in a field road. The truck stopped in the field after traveling over rough rocky terrain. The male and female fled on foot into the tree line, according to reports.
Additional units from the Sheriff's Office and backing units from the Kansas Highway Patrol searched the area extensively.
KHP K-9 units along with Shawnee Police K-9 units arrived to bolster the search efforts. KHP also offered a fixed wing aircraft to observe the search efforts.
The area was crisscrossed by officers and K-9 units until late Friday night, Deputies and officers contacted local neighbors about the possible threat in the area.
About 10 a.m. Saturday, someone called in a sighting of the couple to dispatch. Patrol deputies and sheriff's personnel eventually apprehended the couple after a search started at 2:30 p.m. Saturday.
The suspects were taken into custody and transported to the Leavenworth County Jail.
"We are glad no one was hurt." said Todd Thompson, Leavenworth County Attorney.