Little Town, Big Questions: An occasional series of brief interviews with people in the Tonganoxie community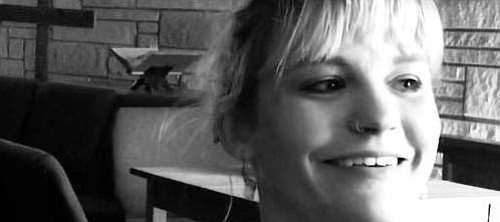 Editor's note: Former Kansas City Star reporter and current freelance writer David Frese has started a periodic series on his Facebook page, Today in Tonganoxie. His interviews occasionally will appear in The Mirror. You can follow his Facebook page and also look for @TodayinTonganoxie on Instagram and #TodayinTonganoxie.
This week's guest is Carissa Welsh. The 31-year-old director of youth and adult discipleship at Tonganoxie United Methodist Church has lived in Tonganoxie since 2011.
Q: What brought you here?
A: My husband and I had been living in Johnson County. I had gone to grad school there, he had a job in Kansas City. It was fine, but he and I both grew up in small towns: I grew up in a town of 3,500 people and he grew up in a town of 500.
And we were both, like, 'This is too big.' You kind of get lost in the crowd and I am definitely not one who wants to be lost in the crowd. So his brother had been living here for, gosh, eight years or something, so we said, 'Let's try it, and if we don't like it, we'll just go somewhere else.' And we just fell in love with the proximity to all the different cities around but also the small-town feel that we were so used to.
Q: What are some of your unfulfilled dreams?
A: I have this stupid ambition to be in the roller derby some day. I know it's probably really never going to happen, and I'd probably chicken out as soon as I got there, but they are so bad ass that I just want to be them.
I feel like everything I've done to this point is because I've felt called to where I'm going. I'm happy with the decisions that I've made. I'm happy where I am. I'm happy to have the dream job of being able to tell people how cool Jesus is and play games with kids. I'm already there. My mom said when I was 5 years old, someone would get hurt on the playground and I would run to be the first one there to see that they were OK. And I get to be a mom at the same time.
Q: How do you see the divides in our community working themselves out, for bad or good?
A: I saw it in play when everything was going on with Tyson. I didn't love the idea, but what I saw was how people treated each other. Yelling in the streets. Yelling at people who had been elected. Whether or not you agree, maybe that's not the best way to handle your feelings and emotions. I saw people grapple with their emotions in ways that were not good. That was kind of frustrating for me. I was kind of in the middle. I was just disappointed in how people were treating each other. I just felt sad. There were people who said, 'You're the new people who just want to take over our town,' and I think there's just a miscommunication about what people want. People like us who are transplants, we don't want to take over the town, we want to help make things better.
Tradition is good. Tradition is something that you want to hold on to. There are things that have happened for years and years and years that I think are really cool -- the St. Patrick's Day parade, the Homecoming parade and Tongie days. That's cool stuff that you want to hold on to. Sometimes we don't want to let go of things that might need to be let go of, and that can be a painful experience for some people. There's this fine line of holding on to the traditions that are important but understanding that we want to be progressive. We want people to be here, so what do we do to appeal to everybody?
Q: If you think about one of your biggest challenges in your life, how did you get through it?
A: Friends and family. For example, I have a pretty serious anxiety disorder and I take three pills a day for it. And that's really hard sometimes. There are some days that I don't want to get out of bed, and I've had this since I was 15. It's been this thing that you want to push people away because you think you're damaged, you don't want them to be affected, but in the end, what has gotten me through is, first of all, my faith, but secondly, the people that God has put in my life to support me and tell me that I am loved and I am cared for and that they will support me. You can't do life alone. You need people in your life.
Q: I stole this question from the Mister Rogers documentary, "Won't You Be My Neighbor?", but take a minute and think about the people who have supported you and brought you to where you are in your life.
A: That's a huge list. And I realize how lucky I am to have a huge list, because many people don't. Top of that list, Ron and Cathy Nichols, my parents, who ... gosh ... there are no words. They have been with me through thick and thin and continue to be. My husband, Kevan Welsh, of course. My sorority sisters and people I met at college and my best friend I've had for ... 16 years now? From high school. We may not talk all the time, because we're adults, but if I was to call them up at any given moment, I know that they would be right there.