Music, mud run and more at this year's Leavenworth County Fair in Tonganoxie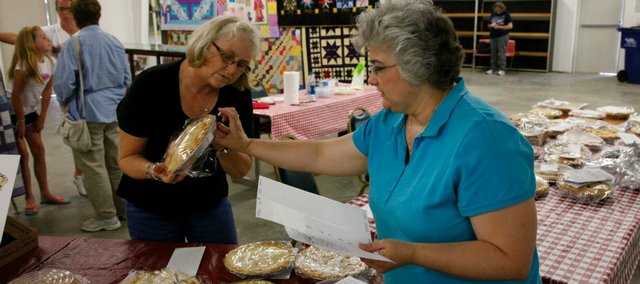 Whether it's the plentiful 4-H, FFA and open exhibits, the carnival rides or the fried food goodness, a Tonganoxie tradition dating back more than 90 years is almost here.
The Leavenworth County Fair, which dates back to 1926, starts Tuesday.
This year, organizers are again adding some music to the lineup to give fairgoers additional entertainment options.
The Scott Peery Band will play July 27 at the Leavenworth County Fairgrounds. The group is a premier Kansas City-based country rock/Red Dirt band. There should be something for most ears, as the group goes from classic country songs to current radio hits. The group even performs some original music.
This year's theme is "Fun for the Whole Herd."
Things get started with the fair parade at 6:30 p.m. Tuesday through downtown Tonganoxie. From there, it will be on to the fairgrounds for a week of activities.
A draft horse pull, mutton busting and the youth pedal tractor pull, along with turtle races and a pie-eating contest are some of the staples of this particular tradition-rich fair.
Rodeos multiple nights and a mud run draw crowds as main events, as does the livestock auction. That's when 4-H and FFA youth show off their livestock to local bidders. The event usually brings a full house for bids on dairy cattle, beef cattle, swine, sheep, goats and rabbits.
Several local groups and other food vendors dot the fairgrounds. If you're hungry for some fair food, it's definitely the right place.
"You may want to watch how much fair food you eat before riding all those rides, but who can resist with the aroma of kettle corn, barbecue and other fried delicacies?" said Mike Johnson, fair board president, in his fair catalog welcome.
The fairgrounds has plenty of animal, craft, clothing, art and food exhibits, to name some, but there also are commercial exhibits in case you find some products you can't live without. The commercial exhibits also feature several local organizations with which you can become more acquainted.
When organizers say they have fun for the entire family, they do their best to reach out to everyone.
Senior Day at the Fair is 10 a.m.-12:30 p.m. July 27.
In partnership with the Leavenworth County Council on Aging, the event offers some special opportunities to senior citizens to participate in the fair.
For visitors who want to go all out at the carnival, every night is Arm Band Night.
For $25, a person can ride rides all night.
This year's fair finishes up with bull riding and mutton busting July 28.
For more information about the Leavenworth County Fair, visit leavenworthcountyfair.com.