Raucous Reverend: Tonganoxie priest cheers on homeland in World Cup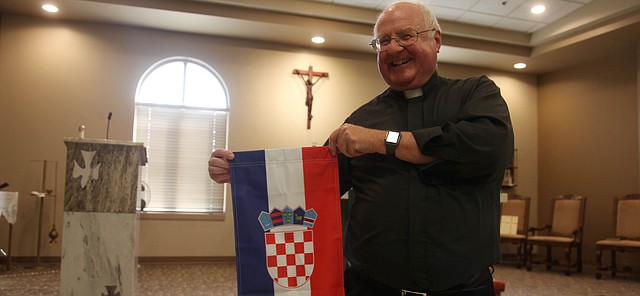 The Rev. Mark Goldasich had a mighty schedule conflict Sunday.
While many of his friends and relatives of Croatian decent in the Strawberry Hill district of Kansas City, Kan., had surely attended Mass on Saturday night and thus were able to watch the big World Cup match Sunday morning, Goldasich had a job requirement.
Croatia — the Goldasich family's homeland — played at 10 a.m. Sunday for the World Cup soccer championship against France.
The longtime priest was to say Mass at 10:30 a.m. Sunday at Sacred Heart Catholic Church.
Goldasich joked last week about keeping tabs on the match from the pulpit via iPad. The proposed plan was all in jest, but the longtime priest was all in these last few weeks when it came to the Croatian national team.
"I would follow it when USA was in there," Goldasich said about previous World Cups. "And Croatia usually got knocked out pretty early.
"But this year, yeah, I've been following it very closely. I thought Argentina would beat Croatia. They (Croatia) beat them. Oh my gosh. They keep going."
Strawberry Hill proud
Down the road in KCK, Goldasich's roots are planted in the Strawberry Hill community, an area known for its Croatian heritage.
"I grew up and went to school there," he said. "I was ordained there. My whole family is all there."
He went to Savior of the World, a seminary preparatory school, while most of his friends attended Bishop Ward High School.
Asked whether he joined his fellow Croatian Americans at gatherings in the Strawberry Hill area, he said he actually just watched in Tonganoxie, which he again did after Mass on Sunday.
"I have not been down there because I think they would say 'Oh good, the priest is here, they're guaranteed a win," he said with a hearty laugh.
He had other motives for watching in the comfort of his home.
"I do because I'm so nervous," he said last week. "I get up a lot and walk around."
World Cup fever
His fellow fans had been getting into the spirit in KCK. He said people were wearing shirts that read "I'm not yelling, I'm Croatian."
"We're very loud people," Goldasich said.
The local priest grew up going to the St. John's Catholic Club in KCK. The establishment has six bowling lanes, food, drinks and more.
Goldasich was told the watch party crowds have been so big at St. John's that chairs had been set up in the bowling alley approach lanes.
The establishment's Facebook page showed many fans celebrating in their red-and-white checkered shirts, the dominant pattern in the country's flag.
"It's really been exciting for the community," Goldasich said. "Before the World Cup, people didn't know what Croatia was."
Croatia was part of the European country of Yugoslavia from 1918 until 1991, when it declared independence and became its own country.
In World Cup play, Croatia defeated Nigeria, Argentina and Iceland before outlasting Denmark and then Russia in the Round of 16 and quarterfinals — both on penalty kicks. Croatia outlasted England, 2-1, Wednesday in the semifinals.
"All these penalty kicks, oh my gosh, my heart can't take it anymore," Goldasich said.
Sunday's match had its exciting moments, but it wasn't the nailbiter Goldaisch had been accustomed to these last few weeks.
France won, 4-2, in the championship match. It was France's second World Cup title, with this year's victor coming in Russia.
"I was definitely disappointed, but grateful for the exciting ride that got us to the final," Goldasich said. "And lots of good things happened as a result of the World Cup: I found lots of Croatians around that I wasn't aware of before."
Matchday food
So what authentic Croatian food might someone have served at a World Cup watch party Sunday?
Start with sarma, which is a cabbage roll with meat inside and then roll out the kobase.
"Some would call it 'Polish' sausage," Goldasich quipped, "But it's sauerkraut."
You then would have needed a side of Croatian potato salad, which is a potato salad served cold with onions, vinegar and oil.
To finish off the spread, Goladisch would have served some nut bread.
As for the drink of choice, slivovic or slivovitz is a popular selection, though Goldasich warned that the plum brandy is strong.
"It will take the rust off your car," he joked.
Regardless of what was on the menu at Croatian watch parties, soccer fans were buzzing Sunday about what has been called one of the greatest World Cup tournaments of all time.
Despite the loss, for Goldasich, the tournament had other benefits — and hope for another title run in 2022.
"It gave me a respite from the worries of the world for a while and it gave me an excuse to learn more about my homeland. And it's not so bad being second-best in the world!"