Tonganoxie Business Association recognizes merchants and more at annual banquet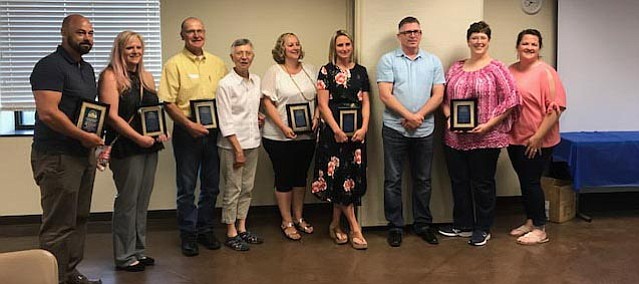 Several Tonganoxie businesses and first responders were recognized during Tonganoxie Business Association's annual banquet May 15 at West Haven Baptist Church.
Downtown Drugstore was named Small Business of the Year, while Mid-Star Lab/Capitol Orthopedics was named Large Business of the Year.
Fun and Fabulous Floral and Gifts was named New Business of the Year (open to businesses three years or younger), while Jim and Janet Stuke were this year's Volutneers of the Year.
Calvin Quisenberry earned the Distinguished Person in Business award and Robert Schuck was named Entrepreneur of the Year.
Tonganoxie City Fire Chief John Zimbelman presented longevity awards, while Tonganoxie Police Chief Jeff Brandau presented his last awards, as he retired Friday. Brandau received a standing ovation at the event.
Tonganoxie Business Association is the merger of the former Tonganoxie Chamber of Commerce and Entrpreneuers Achieving Success Together organizations. TBA meets at 8 a.m. Fridays for breakfast meetings at the Brothers Market dining area.