Tonganoxie communty sends off police chief at retirement reception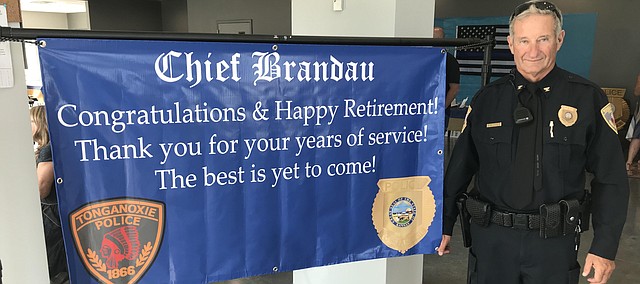 Tonganoxie Business Association members gave Jeff Brandau some good-natured ribbing Friday during the organization's weekly breakfast meeting at Brothers Market.
Members reminded the retiring police chief that it also was National Doughnut Day and that it was fitting that was his last day on the job.
All kidding aside, many in the group thanked Brandau for his service and told stories of how he assisted them with this issue or that question.
During the breakfast, Brandau said that he appreciated how citizens treated him during his time as police chief. He reiterated that folks in the community always have been welcoming.
Later in the day, officers past and present were at retirement reception for him.
A banner of appreciation greeted visitors. As a special gift, officers gave Brandau a giant replica of the Tonganoxie Police badge. While at the reception, he joked that he hoped he didn't have to wear the oversized replica.
Brandau became Tonganoxie's police chief in September 2010 after many years in the Kansas Bureau of Investigation.
While in Tonganoxie, Brandau oversaw a department that was on the move. TPD went from its longtime building at the northeast corner of Fourth and Delaware to a space in an office building across the street that now is home to the Tonganoxie/Basehor-Linwood Pathways program. The previous police station now is the downtown pocket park where the Mayor's Christmas Tree Lighting now takes place.
While in the office space across the street, city officials looked at various options for a new police station. Though a new facility had been on the table during the process, Brandau also suggested the possibility of repurposing the former Cornerstone Family Worship church at Sixth and Church streets. A previous attempt to repurpose a structure in the Urban Hess Business Center a few years ago fell through. The county eventually purchased that building and repurposed it as the new Leavenworth County Annex building on Laming Road.
In fall 2016, the department moved into its new station at Sixth and Church streets.
The facility spans 6,000 square feet over two levels. An additional building was built northwest of the repurposed station and is 1,300 square feet.
The former police station in the office building was a 1,000-square-foot space.
Friday's retirement reception took place in the new Cornerstone Family Worship church along U.S. Highway 24-40.
Tonganoxie also had a K-9 unit at one time during Brandau's tenure.
An avid runner, residents likely will still see Brandau hitting the pavement in the Tonganoxie area. He always encouraged residents to participate in the Run for the Blue event and ran in other races as well.
Brandau's start in law enforcement dated back to the early 1980s. He sold a successful fertilizer business he started to become a patrolman with the Salina Police Department in 1982. He rose to become a sergeant with that department before becoming a special agent with the KBI in 1988. He became a resident special agent assigned to Junction City in 1991 and a special agent supervisor in 1994.
He was promoted to special agent in charge of the KBI's East Regional Special Operations Division in 1996.
In 2008, Brandau was named the KBI's administrative special agent in charge. He acted as the bureau's legislative liaison and was in charge of its training and internal affairs.
He retired from the KBI in 2009 and then worked with the consulting firm Cubic Applications Inc., a job that took him earlier to Afghanistan to mentor Marines developing the Afghan National Security Forces.