Delay didn't deter Tonganoxie High baseball against top-seeded Paola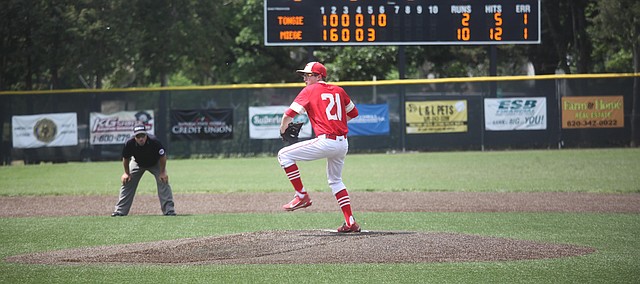 Rain and lightning delays kept pushing back Tonganoxie's state quarterfinal game against No. 1 Paola on May 24 at Soder's Grove Field in Emporia.
After a few hours of delays, Tonganoxie finally took the field.
The delay didn't seem to bother the upstart Chieftains.
As they did at its home regional, THS took out the top seed — this time at the Class 4A Division I state tournament.
Tonganoxie scored first in the fourth for a 1-0 lead before Paola responded in the bottom half with two of its own runs. THS, though, kept its composure and scored in the sixth and seventh innings before holding on for a 3-2 victory.
THs was aggressive on the base paths against the Panthers.
Chandler Hamman opened the inning with a hit, but was out at second on a fielder's choice. With Ty Gambrill on first and one out, Austin Fisher moved Gambrill to second on another hit up the middle. With Dylan Kleidosty in as courtesy runner for Fisher, Kleidosty and Gambrill moved up on a passed ball. Ethan Basler sacrifice fly scored Gambrill. Kleidosty got doubled up trying to advance to third after the fly out, but Gambrill crossed the plate before Kleidosty was tagged out.
Fisher again got the team going in the sixth with a base hit. With Kleidosty in as a courtesy runner, Gambrill connected for a big double to center field. Kleidosty scored on the play and the game was tied, 2-2.
Paola threatened in the bottom of the sixth. PHS had runners at first and second with one out, but THS got out of the inning.
Jayden Wilson opened the seventh with a walk for the Chieftains. Cooper Cunningham then came in for Wilson and advanced to second on an error. Caden Woods hit an infield grounder, but the umpire determined that Woods got to the bag before the tag and THS had runners on first and second with nobody out.
With two out, Gambrill hit the ball past the Paola third baseman on a 2-2 pitch and Wilson scored what would be the winning run.
Tonganoxie held on for the upset victory three outs later. Hamman pitched a complete game, giving up five hits and walking one. He also struck out a Paola batter.
Hamman got a PHS runner caught in a rundown between first and second earlier in the game. With another Panther heading home, Hamman tried to throw home, but slipped on the soggy turf. The run scored, but he was able to get the original runner out trying to get to second.
Perich also had a big stop in the outfield with a diving catch
The victory marked Tonganoxie's first at state since 1992.
Miege 12, THS 2
Hamman got THS going the next day against No. 5 Bishop Miege. Hamman led off the game with a double and eventually scored on a Fisher grounder to the shortstop.
THS had the 1-0 lead, but it didn't last long. Miege's Carter Putz, the 2017 Gatorade Player of the year for Kansas and a Notre Dame baseball signee, rocked THS with a triple in the bottom of the first.
Putz went 2-for-2 before THS didn't take any more chances against Putz, whom the Chieftains intentionally walked three times.
Tonganoxie just couldn't hold off the Miege bats as MHS advanced to the championship game with a 12-2 victory in six innings.
Woods scored on a Hamman single to right in the fifth that made the score, 7-2, but it wasn't enough of a rally.
Andover Central 2, THS 0
Tonganoxie turned around 30 minutes later to face Andover Central in the consolation game. THS only allowed two runs, but just couldn't produce any offense in the 2-0 defeat.
Brett Ingerson pitched 6 innings, striking out five and giving up four hits.
Basler and Gambrill had Tonganoxie's lone hits.
THS finished the season 7-18 with a fourth-place finish at state. ACHS took third with an 18-7 record.
Miege (14-11) fell to No. 2 Arkansas City (21-4) in the championship. Ark City rocked the Stags, 11-1, in six innings for the program's second state title and first since a 5A championship in 2002.
THS graduates seven seniors from this year's state team: Tanner Thoemke, Dylan Kleidosty, Chandler Hamman, Gryason Gilbert, Ty Gambrill, Timothy Peel and Terry Thompson.