Furious rally highlight of state run for Tonganoxie High softball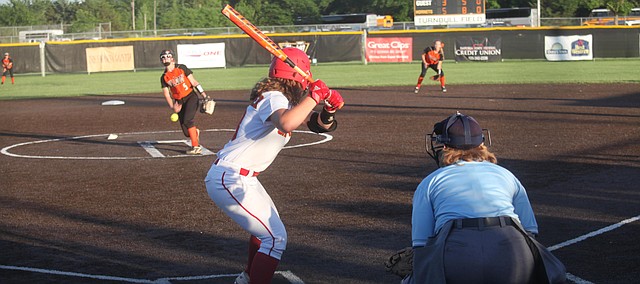 As the temperature kept rising on a humid morning in Emporia, the Tonganoxie High softball team seemed to be cucumber cool.
Tonganoxie opened its Class 4A Division I state tournament with a quarterfinal game against Andale. THS struck first on a Brenn Shryock slap hit that scored Audrey Miller, who originally got on base with a double that nearly cleared the fence.
THS was cruising with a 1-0 lead when Andale answered with four runs in the fourth and another in the fifth.
Tonganoxie now trailed, 5-1, and was down to its final six outs.
Then came the rally.
Makenzie Sample's triple scored Lauren Willson. Delainey Fenoglio's double scored Sample. Miller was intentionally walked before Fenoglio scored on a Lauren Gray sacrifice fly.
Now down, 5-4, Tonganoxie pulled ahead with a Torrissa Hootman line drive to right field. Miller and Erin Gallagher scored and Tonganoxie was up, 6-5.
In the seventh, Samantha Reynolds was able to pitch three outs and Tonganoxie was on to the semifinals. Fenoglio pitched 3.1 innings and Reynolds 3.2 against Andale.
Indy 5, THS 3
Because of inclement weather, All games but the championship were played a day later than scheduled, May 25.
That evening, No. 4 THS took on No. 1 Independence, which was a perfect 23-0 entering the game.
THS had a 2-1 lead and Independence potentially on the ropes. Fenoglio's squeeze play helped Lauren Willson score from third in the first. Lauren Gray's solo homer in the second had THS in good shape early.
The score stayed the same until the bottom of the fifth when the floodgates opened for Indy.
The Bulldogs pulled ahead, 5-2, and Tonganoxie would need another big rally like earlier in the day.
Tonganoxie got a spark with an Audrey Miller homer that made it 5-3 in the top of the sixth, but THS couldn't muster any other offense in the final two innings and Independence held on for the victory.
Independence took fourth in 5A in 2015 and third in 4A D-I in 2016 and 2017.
The Bulldogs would have to settle for second this year, as No. 7 Andover Central won the title with a 5-4 victory in eight innings. ACHS became state champs with a 15-10 record, while Independence finished 24-1. Andover Central also defeated fellow Kaw Valley League co-champion Piper (20-3), 12-9, in 12 innings.
Because of the schedule change, KSHSAA opted to not have a consolation game. Instead, both teams were presented third-place trophies.
THS finished the season 19-5 with its highest state finish in school history and a KVL co-champions title. No. 3 Paola, a team with which Tonganoxie split a doubleheader earlier in the season, finished 20-4.
Playing in their final games in Chieftain uniforms in Emporia were Audrey Miller, Lauren Willson, Makenzie Sample, Delainey Fenoglio and Torrissa Hootman.