Looking back at statistics leaders for 2018 Tonganoxie High baseball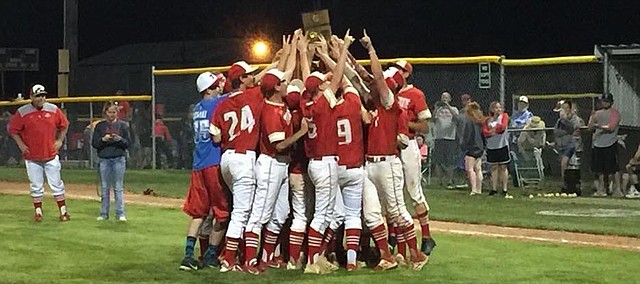 The Tonganoxie High baseball team is coming off an exciting end to the season with a fourth-place finish at the Class 4A Division I state baseball tournament.
Here's a closer look at this seaon's statistics, with rundown of team leaders in various categories.
Statistics are listed with players' last names. Here's a full list of the state roster: Seniors Tanner Thoemke, Dylan Kleidosty, Chandler Hamman, Grayson Gilbert, Ty Gambril, Timothy Peel and Terry Thompson; juniors Matthew Perich, Ethan Basler, Bronson Cunningham, Ralphie Miller, Jess Collier, Austin Fisher, and Brett Ingerson; sophomores Jayden Wilson, Cooper Cunningham and Caden Woods; and freshman James Eaton.
BATTING
Batting average
Thoemke, .357
Hamman, .338
Thompson, .306
Fisher, .306
Gambrill, .278
Hits Fisher, 22
Hamman, 20
Gambrill, 20
Basler, 20
Singles
Hamman, 17
Basler, 15
Fisher, 14
Gambrill, 14
Wilson, 14
Doubles
Fisher, 6
Gambrill, 4
Basler, 4
Cunningham, B., 4
Hamman, 3
Home runs
Fisher, 2
Gambrill, 2
Basler, 1
RBI
Gambrill, 16
Fisher, 15
Basler, 10
Hamman, 9
Wilson, 9
Runs
Hamman, 15
Basler, 14
Perich, 12
Gambrill, 11
Thoemke, 9
Walks
Fisher, 16
Gambrill, 13
Basler, 11
Thoemke, 8
Wilson, 8
Strikeouts
Gambrill, 20
Fisher, 17
Perich, 16
Cunningham, B. 12
Hamman, 10
HBP
Hamman, 5
Thompson, 3
Gambrill, 3
PITCHING
Wins Hamman, 3
Ingerson, 2
Cunningham, B., 1
Wilson, 1
Walks
Cunningham, B. 25
Ingerson, 23
Hamman, 20
Wilson, 16
Fisher, 9
Strikeouts
Ingerson, 28
Hamman, 24
Cunningham, B. 11
Wilson, 9
Basler, 6
ERA
Ingerson, 3.33
Hamman, 3.57
Wilson, 7.64