Tonganoxie
USD

464 school board holding off on transportation decision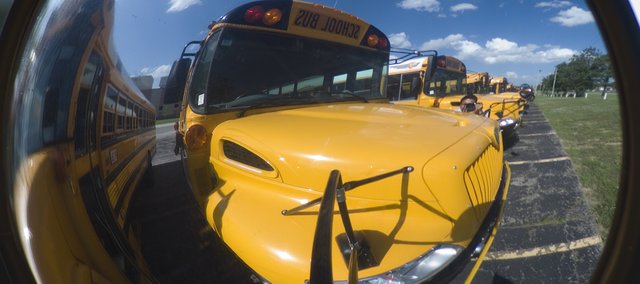 The Tonganoxie USD 464 school board has opted to continue with its current bus system and not hire an outside company to handle transporation services for the district.
Members were in agreement that any decision should come with more information about the district's current arrangement. The district has always owned and operated its own fleet.
The board also wanted to get input from new superintendent Loren Feldkamp before making any sort of decision.
Keeping with discussion of transportation, Board Member Kaija Baldock wanted to vote separately on the district's pay-to-ride rate within the 2018-19 fee schedule, which was approved separately earlier in the meeting.
Baldock said she wanted to have a conversation and get the board's feedback about pay-to-ride, which for bigger families can get expensive. She talked about again looking at a flat rate after a certain number of students in the family.
Michelle McGhee said she was opposed any formulas because the district already loses money with the pay-to-ride program.
The board was in agreement that it wanted to look into the transportation department's numbers more in the coming months so that it could revisit any changes as the district heads into the 2019-20 school year.