Kicking off the summer in Tonganoxie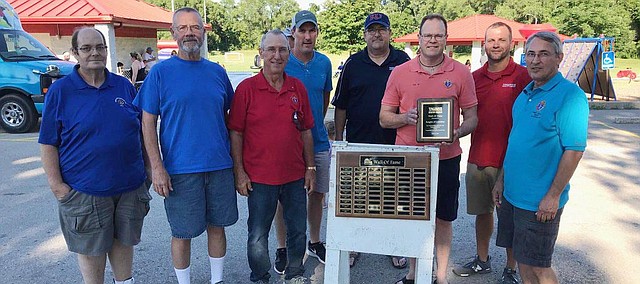 The Tonganoxie Recreation Commission celebrated the start of summer with its annual Summer Kickoff Party on Saturday at Chieftain Park.
Food and refreshments were served and youths got to make their way through an inflatable obstacle course.
Some youths from the cast of "Peter Pan" performed a sneak peek of the play, which will be 6 p.m. Friday and 11 a.m. Saturday at the Tonganoxie Performing Arts Center. The play is this year's TRC summer theater production.
This year's Wall of Fame honoree was the Knights of Columbus chapter at Sacred Heart Catholic Church. Knights have been instrumental in community projects, including their installation of playground equipment at the TRC ball fields and the new slide at Chieftain Park.
It's also been a busy week for TRC programming. The rec commission started its track camp, led by Tonganoxie High track coach Al Troyer and his staff.
Youths also are learning more about science, technology, engineering and math with the STEM camp. The camp started Monday for youths who will be entering grades 3-5.
On Tuesday, the Mini Adventurists Camp started at Chieftain Park. The three-day camp is for youths ages 2-6.
A golf clinic that started June 4 will conclude Monday for youths ages 9-15 at Sunflower Hills Golf Course.
The camp was a five-week program that met on Mondays.
Art Day Camps are coming up with the 7-9 age group meeting July 16-19 and the 10-13 age group meeting July 17-20.
The camp, which instructor Amy Lawson will be leading, will take place in the Tonganoxie Middle School art room.
The younger group class is full, but some spots still remain for the older group.
For more information about TRC programming, visit tongierec.org.