Remember When: A Community Review for June 27, 2018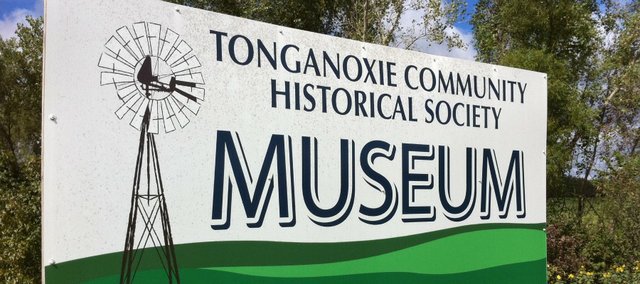 10 years ago: June 25, 2008
More than 300 plainsmen, fur traders and backwoodsmen traveling from 12 different states across the Midwest peddled wares, held rifle and pistol matches, and dressed in period clothing last week in an annual pre-1840s-style encampment, held for the first time five miles north west of McLouth. Teepees and lean-tos began popping up for this year's festival June 12 on Bill Karl's property. Among the 135 campsites in the encampment Friday, men, women and children were found practicing archery and fashioning colonial and pre-Civil War era crafts.
Brad Logan, Kansas State University research associate professor of archaeology, and 10 Kansas State University students are searching the Stranger Creek watershed for lost treasures of ancient people as part of a summer class. Soil erosion on the site has made it difficult to find artifacts, but the rainy weather has also kept the students in side doing lab work. Four inches of rain fell on the site last Friday.
[NOTE: Artifacts found on this dig are part of the Kramer collection of prehistoric artifacts now on permanent display at the Tonganoxie Community Historical Society Museum. Visit the museum to see this collection: 9 a.m.-4 p.m. Tuesdays, 9 a.m.-noon Wednesdays and 1-4 p.m. Sundays]
25 years ago: June 30, 1993
Clear skies prevailed long enough Thursday for the Tonganoxie Chamber of Commerce to hold its regular monthly meeting at the park near the swimming pool. Sack lunches prepared by Bichelmeyer Meat & Grocery were served. Connie Torneden reported that attendance at Tonganoxie Days was down. She noted that vendors and craftsmen indicated to her that turnout had been low at similar events in the area. On the positive side, Torneden felt the draft horse pull, on its first appearance at Tonganoxie Days, was a success.
Yes, there once was a golf course at Tonganoxie! My Dad, Sam F. Haas, took care of the sand and my uncle, Eugene Ferris mowed the entire area and the fairways. Magnolia Manor golf course was on the Laming farm southeast of Tonganoxie across the road from where Joe and Marceline Bargary now live. JC Laming had started planning the golf course in the summer of 1927, so people would not have to travel to Lawrence to play golf.
The 12th annual Haas-Shobert reunion was June 13, at the Riford Center.
Gladys Thompson retired after 21 years in the county offices.
50 years ago: June 20, 1968
A 21 pound 6 ounce channel catfish was pulled from an undisclosed local farm pond by Lawrence Morrison.
Summer tourism and travel down 24-40 highway was bringing up ideas for increased signage to direct people to the Leavenworth County State Lake. 
The attractive new High School and the Sunset Motel were considered a great welcome feature to those traveling to Tonganoxie. The most scenic and easy to get to spot was considered the high point at the east end of Hubbel Hill Cemetery on K-16 West of Tonganoxie.
The average unloading time at the Tonganoxie Elevator Company was 5 minutes
75 years ago: July 1, 1943
Marine Earl Wiley, home on a furlough, fully intended to bring back a pair of grass skirts from the South Pacific for his sisters, Doris and Geraldine – but the regulations wouldn't permit it.
George Seufert, Sr. is laid up at the Loomis residence in Tonganoxie, where he stays, with some broken ribs, and injured leg and various bruises, which he sustained Wednesday afternoon, when the team ran off while he was plowing on the William Vollintine farm, south of Tonganoxie. The runaway horses dragged him quite a distance but his injuries, although painful, are not serious.
Richard Tinberg writes his wife, Mrs. Almeda Tinberg, that he is now a staff sergeant. He is feeling fine and is still in New Guinea. Richard is a bomber mechanic.
Don Himpel reported at Leavenworth Monday and was accepted for military service, making altogether four Himpel boys in the armed forces. Besides Don, there is Bill, Jack and Charles. The fifth Himpel son, Arthur (Bo), is married and in California. Don has a couple of weeks before he reports. The Himpel family now has the M.F. Blacks at Reno dead-locked in a tie, both with four sons in the service.
100 years ago: June 27, 1918
The McKeehen Hotel has no new landlord. That is Ben McKeehen with his moustache shaved off.
This incident shows the great scarcity of sugar. Last week the Zellner Mercantile Co. could not get a sack from any wholesale establishment in Leavenworth or Kansas City. A Lawrence firm finally furnished them with three sacks.
Mrs. Frank Lenahan and children Eugenia, Rhoda, Francis and Richard, left last week for an extended visit with her parents, Mr. and Mrs. JS Rathbone, at Waverly.
The Kramer-Fair Milling Company is turning out corn meal flour that none but experts can tell from wheat flour. A taste reveals the difference.
125 years ago: June 29, 1893
Harry LeVan's cigar business has so increased that he has added another hand to his force.
The ownership of the horse stolen by John Fletcher about a month ago, was settled Monday, in Justice McNaughton's court. When the case was called for trial Monday, the plaintiff was not present neither was his attorney, and the case was continued three hours. A jury was then impaneled, and they decided the horse belonged to Scott. A few hours later a postal card was received by the justice, stating that the plaintiff had sustained a sprained wrist and they wished to have the case postponed.
The first liquor case brought before Judge Myers in this county, has thrown consternation into the ranks of the whisky sellers.
Jacob Weisman who was under $300 cash bonds to appear before Judge Myers to answer to the charge of selling whisky, failed to appear for trial. As the Judge rightfully concluded that Weisman was willfully absent, he proceeded with the trial. Weisman's attorney was present and protested. Judge Myers declared the $300 bond forfeited and, in addition, fined him $100 and sentenced him to 30 days in jail.
Tuesday Weisman was placed in jail. The fine, costs and forfeit money amounted to $667, and though he has disposed of his property, Weisman can't recover the $300 or escape the jail sentence.