Tonganoxie Recreation Commission summer youth theater production of 'Peter Pan' to be staged tonight, Saturday morning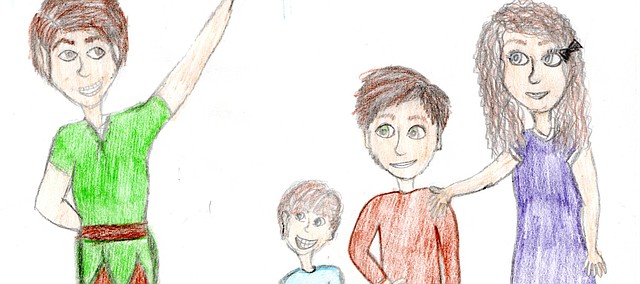 This year's youth Tonganoxie youth summer theater production is "Peter Pan" and will be staged at 6 p.m. today and 11 a.m. Saturday at the Tonganoxie Performing Arts Center on the Tonganoxie High School campus.
The event is a Tonganoxie Recreation Commission program. Those attending are encouraged to bring a canned good item that can be donated to Good Shepherd Thrift Store and Food Bank.
Bob Linebarger adapted the play by JM Barrie and is directing the local version.
Assistant director/stage manager is Jacob Brents.
Lilly Pruitt will play the part of Wendy, while Lachlan Bond is Peter Pan. Joel Moraille is John and Angelo Maoraille is Michael.
Other youths in the play are Caden Phillips (Mr. Darling/Crocodile), Alaina Rogers (Mrs. Darling), Caroline Keene (Tinker Bell), Laura Kinsch (Captain Hook), Madison Schiffelbein (Smee), Sonya Khoumixay (Tiger Lily), Mary kate Dial (Starkey), Addy Schooler (Nana), Katelyn Bothwell (Peter's Shadow) and Ashlyn Brune (Jane).
The Lost Kids are Ella Pruitt (Potayto), Maddie Pruitt (Potahto), Taylor Brents (Tootles), Connor Vestal (Jeff), Isabel Moran (Wolf), Grace Patterson (Cubs), Addison Blanka (Sunny), Danielle Miller (Curly), Rachel Harbour (Slightly) and Olivia Taylor (Nibs).
Pirates are Mason Schooler (Red Skull), Katelyn Bothwell (Peg-Leg), Addy Schooler (Bald Beard) and Harper York (Screechy).
Mermaids are Avery Brune (Katherine), Nora Eccles (Unicorn), Mikayala Erwin (Ariel), Ella Moran (Summer), Addison Owen (Kitty Kat), Natalie Rogers (Rosa Belle), Josie Owens (Eliana Grey), Pierre Moraille (King Poseidon), Eliana Moraille (Eliana Grace), Lily McGuire (Penguin) and Audrey Patterson (Bella).
Tech crew is
Emmett Keene, Payton Lynn, Andrea Zesati, Adam DeMaranville, Lucas Boice, Harrison York.
Madison Schiffelbein provided slide and program cover design.