Remember When: A Community Review for Feb. 28, 2018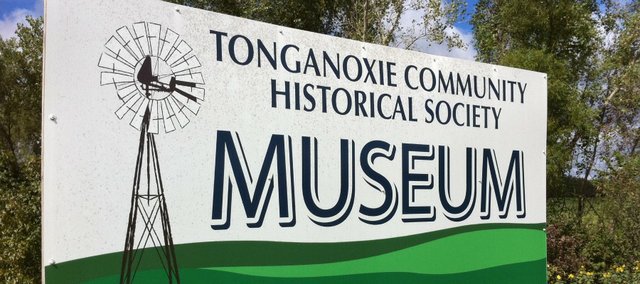 10 years ago: Feb. 27, 2008
John Cass Lenahan recently had "Yesteryears III" published. His previous two books dealt with Tonganoxie life primarily in the 1800's. The third installment basically runs from the 1920s through the 1940s, particularly World War II. Lenahan writes about his experiences during World War II, but also writes extensively about downtown Tonganoxie. It's an area he's spent much of his life in, especially Lenahan Hardware, which he owned for 35 years before retiring in 2006.
When Mary Bichelmeyer Lucas started writing a book about her father, John Bichelmeyer, she originally planned for it to be a gift to her siblings. "For me it was very hard losing my father and I needed to write this stuff down while I had it," she said. The book is titled "Lunchmeat and Life Lessons" and has brought Lucas opportunities beyond the bookshelves. The book has drawn interest from companies that want Lucas to speak to their employees about the best way to succeed. Throughout the book, Lucas spinkles various pieces of "Butchers Wisdom" from her father, such as "When you're all wrapped in yourself you make a damn small package" and "Don't let go of one limb until you have a firm hold on another." Lucas' cousin, Matt Bichelmeyer and his wife, Vickie, own the Tonganoxie Steak House.



25 years ago: March 3, 1993
Florence Seeley Riford,, 103, Tonganoxie benefactress and former resident, died Feb. 19 in La Jolla, Calif. Riford donated more than $250,000 to the Florence Riford Senior Center and started a perpetual scholarship fund at the high school with a donation of $200,000. In 1959, during the construction of the United Methodist church, Riford donated the stained glass window now facing the street. Riford had the window designed in New York and constructed in Paris.
Records indicate that Riford's recollection of her youth was sketchy, but she labeled herself the family "leader in mischief." When her father brought home a horse that needed to be broke, she was the one elected, and mounted the animal without fear. Riford left home at age 18 to stay with her sister in Kansas City. She worked as a telephone operator and a nurse until moving to Chicago with a friend in 1920. There, she met real estate investor, Ira Riford, who married her after a month-long whirlwind courtship.
50 years ago: Feb. 22, 1968
A $200,000 dollar rural telephone upgrade started for areas around Tonganoxie to cut in half the current party lines. This is possible due to the rollout of the new dial phones.
Rep. Bob Dole attended a get-acquainted coffee Friday in Tonganoxie. He is the lead Republican candidate for the Senate seat vacated by Frank Carlson.
A pound of Butternut coffee was on special for $1 at Bill's Market.
Henry F. Geib has an original photo and the glass negative of Chief Tonganoxie's Lodge. The lodge was torn down around 1910 and relocated north of the Tonga Creek bridge on the highway.
Sertoma Club was having a ham or chicken Dinner, $1.50 for adults, Feb 25 at Bud's Café to benefit Youth Recreation Fund. 
75 years ago: March 4, 1943
Lee Henry, age 44, Superintendent and Caretaker at the State Park northwest of Tonganoxie, was found dead in his room Thursday at Osawatomie. He had been attending a district conference of state game wardens. His wife, a teacher in the Tonganoxie Grade School, was at the school when called from Osawatomie. It is assumed that the cause of his death was a heart attack.
For those who do not have Ration Books No. 1 and No. 2 they can pick them up 9 a.m.-4 p.m. Monday, March 15.
100 years ago: February 1918
(various weeks)
The commissioners of Leavenworth and Wyandotte counties signed their approval Monday of the petitions for a concrete road 18 feet wide from the Douglas county line into Wyandotte County to connect with the parallel rock road. In both instances the action was unanimous. The petitions represented over 47,000 acres of the 72,000 acres in the two benefit districts. Some of the papers have stated that the road will not be constructed till after the war. That is guess work pure and simple. They may be guessing right and they may be guessing wrong. The federal authorities have given no indication what their attitude will be toward the construction of the road at the present time.
A seven-string fiddle that was as freakish in construction and marking also as in strings, was exhibited around here last week by Abner Wickersham, who formerly lived in this township on the farm where old Dimon was, about nine miles northwest of here. Wickersham does not claim any place as his home. He says he is a wanderer on the face of the earth. The fiddle was built by himself, and he plays a few simple airs on it. The instrument is well marked up with hieroglyphics to illustrate Bible history as Mr. Wickersham interprets it, and he takes a pride in explaining his work. Dimon, where Wickersham lived many years, was a little village that was absorbed by McLouth after the Leavenworth, Topeka & Southwestern was built.
So far nine Germans have registered at the local post office, under the provisions of the enemy alien act. Some of them have really been citizens of this country so long that the necessity of their registration comes as a surprise to the public. It is not generally known that the Rev. FP White, pastor of the local Friends church, was born in Germany, and he had to register because he had never taken out his final papers. Twice he took out his first papers, but failed to finish the job. He was born in Schleswig, and came to this country when 20 years old. At the age of 24 years he entered a primary school to get more proficient in English, and now there is scarcely a trace of the foreign in his speech.
125 years ago: March 2, 1893
The fire fiend Tuesday morning devastated one of the old landmarks of this county. Joseph Doege's store and dwelling near Stranger bridge was entirely destroyed by flames. His sons arose in the morning as was their custom when they were astonished to find smoke streaming into their rooms. They and the rest of the family hardily had time to get out of the house. All of their furniture, clothes and stock of groceries and provisions were totally destroyed. The loss will be a heavy to Mr. Doege as the building and contents were but lightly insured.
Long before the Union Pacific was built, the destroyed structure was in existence and many a weary traveler has there rested and refreshed him there for years, but lately the building was only used for a store and dwelling.