Senate bill allows for more poultry production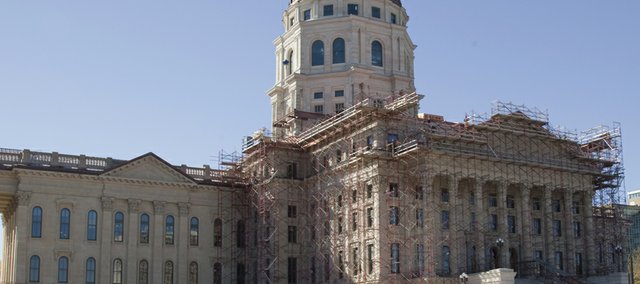 Despite the fact that most state government offices were closed Thursday due to weather, the Kansas House and Senate met throughout the day and into the evening, working through a mountain of legislation covering a wide range of topics on the final day to consider most bills in their chambers of origin.
Thursday's deadline, known as "turnaround day," traditionally marks the midpoint of the regular legislative session. Starting Monday, both chambers started spending most of their time dealing with bills sent to them by the other chamber.
The vast majority of bills that went through the Legislature were not controversial and passed by unanimous or near-unanimous margins. But some became vehicles for controversial amendments, most of which failed to pass.
Poultry production
On the Senate side, one of the most controversial bills dealt with large-scale poultry production. It would allow those producers using what's known as a "dry manure system" to house as many as a third of a million hens or broilers within 100 feet of a property line, or a quarter mile from a habitable structure.
The bill is aimed at facilitating more large-scale poultry producers such as Tyson to operate in Kansas.
This past August, Tyson stirred controversy in northeast Kansas when it proposed building a large-scale chicken processing plant near Tonganoxie, a proposal it later withdrew amid strong public opposition.
Sen. Tom Holland, D-Baldwin City, whose district includes Tonganoxie, tried to add an amendment that would enable voters in a county where such a facility is proposed to call for a public vote before it could be approved.
That amendment was rejected, however, on a vote of 9-25. The bill passed on final action, 29-10.
Abortion
Another of the most controversial bills was in the House and known as the Kansas Telemedicine Act. In its original form, it provided a guarantee that health insurance policies written in Kansas would cover health care services such as consultations with specialists that are delivered remotely, even though the payment rates would be negotiated between the provider and insurer.
In a House committee, an amendment was added at the request of the anti-abortion group Kansans for Life to add a clause saying no abortion services could be provided through telemedicine.
The bill also included a nonseverability clause that said if the abortion restriction is ever found unconstitutional, the entire bill would be struck down as well, something supporters hope will discourage courts from overturning it.
Rep. Tim Hodge, D-North Newton, tried unsuccessfully to amend the abortion provision. Arguing that the state has already spent millions of dollars defending abortion laws that he believes are unconstitutional, he offered an amendment that said for every dollar the state would spend defending the law, an equal amount would be placed in a fund for grants to crisis pregnancy centers to provide women's health care and education.
That amendment failed, 33-79.
Crime of 'swatting'
The House passed a bill increasing criminal penalties for making a false report to a law enforcement agency that results in the death or injury of someone else.
That kind of prank phone call, popularly known as "swatting," led to the death of a Wichita man Dec. 28 when someone phoned in a false emergency report to Wichita police.
Under current law, making a false report is a misdemeanor, but it can become a low-level felony if the caller uses an electronic device or software to conceal his or her identity.
Under the bill passed by the House, the charge could escalate to increasingly higher-level felonies if the call results in bodily harm, great bodily harm, or death of another individual.
Penalties for THC
The House also passed a bill Thursday that realigns penalties for possession of THC so they are equal to marijuana possession charges.
THC, or tetrahydrocannabinol, is the active ingredient in marijuana. In some drug cases, though, law enforcement officers are only able to find traces of it in the bowls of pipes or in other smoking paraphernalia.
Currently, a second or subsequent charge for possession of THC is considered a level 5 drug felony, while a second possession of marijuana is a much lower level of felony. The bill would lower the penalties for a second THC possession to the same as that of a second marijuana possession charge.
Rep. Gail Finney, D-Wichita, tried unsuccessfully to amend the bill to allow cities and counties to set lower penalties for marijuana and THC possession. She noted that voters in Wichita approved a local referendum to that effect in 2015, but that vote was later invalidated by the Kansas Supreme Court.
Rep. Vic Miller, D-Topeka, also gave an impassioned plea for the House to consider a bill to legalize medical marijuana for people who suffer from certain seizure disorders, but he did not offer that amendment Thursday, saying the House needs to hold a thorough debate on the subject, including committee testimony.
The THC reclassification bill passed, 108-9.
County election commissioners
The House also gave final passage Thursday, 77-40, to a bill that would make the offices of county election commissioners in the state's four largest counties subject to those counties' personnel and budget policies.
In most Kansas counties, the locally-elected county clerk serves as the chief local election officer. But in counties with more than 130,000 population, the Kansas secretary of state appoints an election commissioner, and county commissions have little control over that office's budget or personnel policies.
Currently, that only applies to Sedgwick, Johnson, Wyandotte and Shawnee counties. But Douglas County, with a 2016 estimated population of 119,440, could cross that threshold after the 2020 Census is completed.
The bill came about as a result of recent conflicts between the Shawnee County Commission and its election commissioner.
Miller, a former Shawnee County Commissioner, offered an amendment during debate Thursday to make those officials elected county officials instead of being appointed by the secretary of state.
That amendment was rejected.
But Rep. Boog Highberger, D-Lawrence, said he supported both the amendment and the underlying bill, saying he fears the day when Douglas County could lose its locally elected county clerk, Jamie Shew.