Piper ends
THS

basketball seasons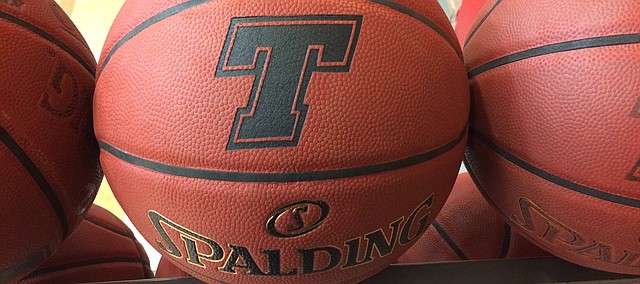 The Tonganoxie High boys basketball team had a shot at the upset Friday in a Class 4A Division I substate game against Piper.
THS got out to a slow start, falling behind, 13-5, in the first quarter. But the Chieftains chipped away at the lead, closing the gap the next two quarters. The game headed into the final quarter with the Pirates clinging to a 35-32 lead.
It was a rough fourth quarter, though, that did the Chieftains in. Piper outscored THS, 22-7, and Piper escaped with a 57-39 victory at Basehor-Linwood High School.
The tough loss ended Tonganoxie's season at 5-15 overall. The Chieftains were the No. 3 seed in the four-team tournament, with Atchison being the No. 4 seed.
No. 2 Piper went on to defeat No. 1 Basehor-Linwood, 64-62, in overtime in the substate finals. BLHS ended its season at 16-6, while Piper improved to 15-6.
The Pirates will be the No. 6 seed Thursday when the 4A D-I boys state tournament gets started at the Tony's Pizza Events Center in Salina. Piper takes on No. 3 Andover Central (17-4) at 4:45 p.m. Thursday
Other quarterfinal games are No. 1 McPhem rson (20-1) vs. No. 8 Spring Hill (14-8) at 6:30 p.m., No. 4 Arkansas City (17-5) against No. 5 Wamego (16-5) at 8:15 p.m. and No. 2 Bishop Miege (19-3) against No. 7 Labette County (15-7) at 3 p.m. Semifinals are 4:45 p.m. and 8:15 p.m. Friday and finals at 6:15 p.m. Saturday.[;.w
Undefeated Piper ends THS girls' season
The Tonganoxie High girls had the tall task of taking on the top-seeded and undefeated Piper girls in their 4A D-I substate matchup Thursday.
The upset bid just wasn't to be, as Piper won the game, 58-11. Tonganoxie's season ended at 6-15, while Piper went on to win the substate title with a 62-45 victory against No. 2 Basehor-Linwood. BLHS' season ended at 11-11.
Piper is the No. 1 seed at state in what looks to be a loaded field on paper. The top four seeds have two losses or fewer.. PHS (21-0) will play No. 8 Paola (11-11) at 3 p.m. today at Tony's Pizza Events Center in Salina.
No. 4 Bishop Miege (20-2) takes on No. 5 Towanda Circle (18-4) at 4:45 p.m. and then No. 2 Labette County (21-1) faces No. 7 Wellington (14-8) at 6:30 p.m. No. 3 McPherson (20-1) takes on No. 6 Augusta (15-6) in the late game at 8:15 p.m. Semifinals are 3 p.m. and 6:30 p.m. Friday and finals are at 4 p.m. Saturday.