Public (House) display of affection in Tonganoxie
Love for downtown, community in general drives opening of pub, soda shop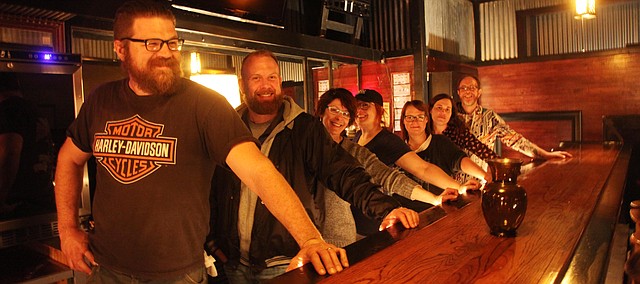 Lulu Stevens hopes Ryan's Public House takes third place in people's hearts.
No, that's not third place as in the third-best choice or option.
It's a concept in larger cities in which maybe there's a pub on one corner and a grocery store on another. It's the concept that home is first place and work is second place. The third place offers an escape from those other places and a way for civic engagement.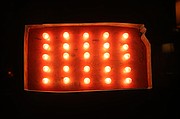 In Ray Oldenburg's book "The Great Good Place," environments such as churches, parks, libraries, cafes and so on are important for civil society and a sense of place.
Stevens and her husband, Mike Ryan, opened the establishment earlier this month. It follows the opening of Ol Doc's Pop Shop across the street this past December. That building in the 600 block of Fourth Street was the longtime home to Dr. Phil Stevens' family practice. It now is home to some unique and traditional types of soft drinks — all in glass bottles or aluminum cans. The style of the drinks fits in with the office itself, which could be the scene for Norman Rockwell painting.
Lulu Stevens said she opened that store and is now in the middle of a new pub because she wants downtown Tonganoxie to continue filling vacant storefronts.
"The passion is really in the downtown and having something open downtown," Stevens said. "We got tired of seeing empty storefronts downtown."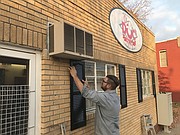 The couple also has wanted to open its own pub.
Roughly two weeks ago, that aspiration became reality.
The couple hopes to eventually own "ballpark fare" and be a place where families can gather to watch sporting events.
For instance, the pub will be open Thursday evening for the Kansas State basketball game against Kentucky in the NCAA Tournament's Sweet 16. It will be open again Friday for Kansas' game against Clemson.
"We wanted to be bipartisan," she said with a laugh.
The establishment, though, with its eclectic look and various nooks with varying furniture, isn't just about watching sporting events on TVs.
Board games, puzzles and other activities are available for customers. The back patio could include a giant checkerboard down the road.
The west wall of the pub's interior, which was painted an avocado green to match other walls, eventually will be adorned with a mural.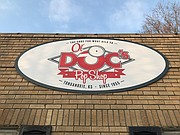 Local artist Elizabeth Daniels will start on the mural starting the first full weekend in April.
Stevens said the mural would be an extension of Daniels' latest show, Atomic Kansas.
Patrons are invited to grab a drink and watch the mural come to life.
Ryan's Public House previously has served various functions, including a bar, a laundromat and Del's Weld, a welding shop dating back several decades.
The public house will open at 5:15 p.m. Wednesdays through Sundays. It will be open until 2 a.m. Fridays and Saturdays. Other hours will be established as Ryan and Stevens determine traffic flow. There also could be an earlier opening on Sundays, but they will be playing it by ear.
To know if the bar is open, a sign in the shape of Kansas will be lit up in a window of the bar at 622 E. Fourth St.
In addition, Ol' Doc's Pop Shop is open 10 a.m.-3 p.m. on Saturdays.
"It's been a big effort by a lot of family, friends and the community," Stevens said. "It's an effort of love for the downtown.
"The passion behind it is the love for Tonganoxie, the love for community and the love for downtown."