Remember When: A Community Review for March 21, 2018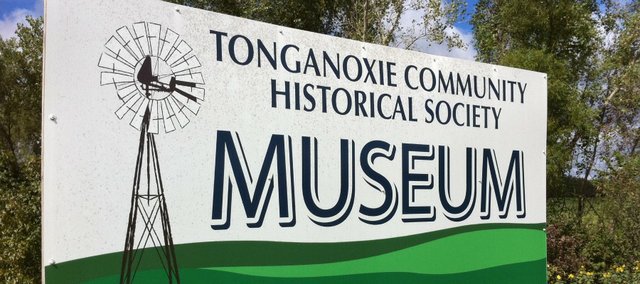 10 years ago: March 19, 2008
St. Patrick may have driven the snakes out of Ireland, but the country's patron saint wasn't able to drive away the cold from Saturday's parade in Tonganoxie. Hundreds of Tonganoxie residents dressed in their winter coats — some even wrapped in blankets — braved the 35-degree temperatures to watch the parade.
Leavenworth County Development Corp. board members broke out of the mold and voiced their personal thoughts about the direction and effectiveness of LCDC rather than merely listening to material presented. Irv Jensen, a hired consultant, led a discussion based on findings from a recent survey of 30 "stakeholders" in the county, that pointed to a need for unity among the business and government leaders to grow the tax base and create jobs in the county.
Thursday, March 6 may have seemed like any other day for most in Leavenworth, but for about 180 British officers, an enemy was on the loose threatening civilians. While it may have been a fictional enemy, the tactical solutions used by the visiting offices with the United Kingdom's Intermediate Command and Staff Course were real ways to end threats. The officers are in the midst of working on a nine-month officer-training course in Oxfordshire, England. For the last three years, the U.K. Command and Staff Course has sent about 200 British soldiers to America for training twice a year.
It's been exactly three months since a young bobcat was brought to Operation Wildlife in Linwood to recover from head injury after being hit by a car near Lansing. "We have really high hopes for her," said Cheryl Saunders, Operation Wildlife director. "She is in an outdoor pen catching live rats all by herself. She is also becoming more aggressive and hissing at us when we go into the pen, which is a good thing."
25 years ago: March 24, 1993
Senior Girl Scout Dana Slawson organized an Outdoor Life Badge workshop last Saturday at Camp Tongawood for over 200 scouts as the last requirement in acquiring her Gold Award (the Girl Scout equivalent to the Eagle rank of Boy Scouts. In addition to receiving the Gold Award, Slawson was recently awarded the honor of representing the state of Kansas at the Girl Scout national organization's tree-planting ceremony on the hurricane-damaged island of Kauai in Hawaii.
Hon. Helen Funkhouser, former politician, professional musician and author, will reach the age of 90 on March 30.
Helen Schilling's column included this notice: Remember the dinner theatre comes up this weekend. The play, The Ballad of Sweet Lucy Sweet, will be held from March 18-25 and April 3-4. Get your ticket early. The location is Bitler's Restaurant.
50 years ago: March 14, 1968
Tonganoxie's Regional Tournament at the High School resulted in a double overtime game play with a  heartbreaking final score of 76-74.
The front page story in the Mirror was about tornado season being here. The piece included safety rules, plus a quarter page Watch Map people were to cut out and save.
State School Board elections would be this year and school finance was a contested party issue.
Aspargus was 49 cents/lb. at the IGA Food Store.
The Dale Rawlings Farm store has been leased and will be the W.R. Grace Farm Center.
Perry Lake, the fifth largest reservoir in the state costing $47.7 million, continued to make local news with the new Timberlake subdivision sites offered by Lloyd Mills Realty of Tonganoxie. 
75 years ago: March 25, 1943
Winston Churchill was walking among smoking ruins after a bad air raid when he asked an old woman how she felt. "Well, there's one thing about these air raids," she said. "They certainly take your mind off the war." CBS
Mrs. J.W. Dorney, who is chairman of the local Red Cross drive, reported Monday that the total reached in the present campaign which is a combined membership and war drive for funds – was $545.50. The quota assigned by county Red Cross officials is $1,000.
Conflicts in war program(s) developed Wednesday night at the Community Club dinner. Many families are going into the poultry business to help the food situation and provide meat and eggs. Also, they are going for victory gardens in a big way. The conflict arose when one man reported his neighbor's chicken program had come into conflict with his garden program by way of an early lettuce bed. (Committee members were L.R. Mitchell, Walt Neibarger, Wm. Heynen, Walter Zoellner, J.W. Mann, Lee Freeman.)
100 years ago: March 21, 1918
John Casebier returned from Nebraska last week, where he purchased a large cane mill for the use of himself and brother the coming season on the Missouri Valley Orchard ground. The mill has a capacity of ten barrels of sorghum per day.
A man was in town late Saturday, looking for an overcoat thief. The man here was riding on the electric line to Lawrence and had left his overcoat in a seat. A thief with a ticket to Lawrence picked it up and got off at Highland station. The owner traced the thief to within two and a half miles of Tonganoxie and then lost trace of him.
A scarcity of janitors has compelled hundreds of landlords to take care of their own heating plants, in the Springfield (Mass.) Republican states. The trouble is confined to two and three-flat buildings. In most cases the owner lives in the building. Heretofore janitors were paid from $6 to $8 a month for taking care of a two-flat building. Now that so many janitors' helpers have been called to war service a great scarcity is said to exist. Janitors are demanding $9 for the care of a two-flat building, and rather than pay it, the owners are doing their own janitorial work.
The Franklin Condensed Milk Co. and the Kemper-Fair Milling Co. contended that the water rates established are prohibitive as far as their plants are concerned, and submitted an offer at a previous meeting of the council of $75 per month for a year for the mill and $100 per month for a year for the condenser. The council Monday night submitted a counter proposition of $75 for the mill and $150 for the condenser. No formal acceptance has been made of either offer.
125 years ago: March 23, 1893
The first gun of the spring campaign was fired at the city hall, Monday evening, when a number assembled to nominate a city ticket. The meeting opened by electing OE Kimball chairman and RC Nance secretary. Three candidates for mayor were placed in nomination, and JW Ratliff was the successful one.
For police judge SJ McNaughton was chosen. The following are the nominees for city council: R.A. Robertson, RH. Southhard, R.W. Freemon, Dave Butcher and Wesley Jarrett. A committee of three was appointed to fill any vacancy that may occur on the ticket between now and election day. Before adjournment it was decided to call it the Republican ticket by unanimous vote, the democrats and populists voting aye.
Will Cronemeyer's team got scared at the passenger train at the Union Pacific depot Friday evening, and ran away. Gus Southard enjoyed the fun as well as the rest of the spectators until he found out that his team had likewise ventured. Neither wagon was much injured. Last Sunday Louis Needham, accompanied by his sister, was coming home from a meeting at the Friendship Valley school house when the passing of a team scared his horse and away the animal went.
One of the lines broke and Louis turned the animal into the fence at C.C. Anderson's with the result of dumping the occupants out. Cart and harness were somewhat broken and Louis hurt his right hand.