City OKs zoning for
RV

resort, retail development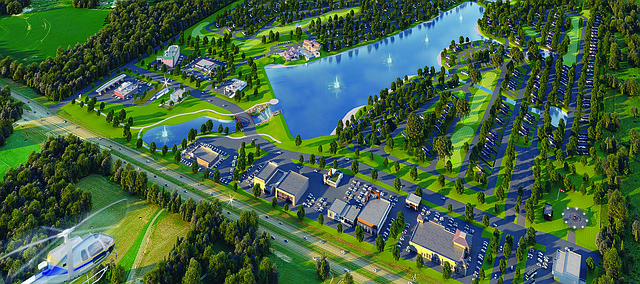 Neighbors of a proposed luxury RV resort and retail development area just east of Tonganoxie spoke out at Monday's council meeting against the project.
But Council Members noted their also was support for the project. Discussion continued before the Council voted, 5-0, to approve rezoning and a special use permits to keep the project moving forward.
Proposals for the development call for 160 acres to be developed in phases for a private RV resort and then retail businesses that front U.S. Highway 24-40. near 206th Street.
The resort portion of the development would be an estimated $30 million project completed in two phases and would be the only of its kind in any direction for 700 miles.
The Tonganoxie proposal is similar to a resort built in Petoskey, Mich., which has a population of 5,700. It has comparable population and about a four-block downtown district. Tonganoxie also is attractive for its proximity to urban areas where visitors also can visit, but be far enough away.
Neighbors of the proposed area, who successfully submitted a protest petition, voiced concerns that the development was a big risk that would hurt the community.
The protest petition required 20 percent of neighboring residents who were required to be notified of the proposed project.
The petition the city received had 15 signatures of the 40 notified. With the petition, the council would need a super majority for the zoning to proceed. The Council accomplished that with a unanimous vote of members.
Jim Cunningham, who lives along the highway and near the proposed development, had concerns that Tonganoxie could support a hotel that was part of plans in the retail development.
Council Member Loralee Stevens, who operates an Airbnb in Tonganoxie, said the house always is reserved for weekends. She felt a motel would be successful in Tonganoxie.
Earlier in the meeting Cunningham said that his family had lived in Tonganoxie for 50 years, but the resort would force his hand.
"If you pass it through, I'll move my family out of the area," he said.
Council Member Rocky Himpel stressed that there still were many more hurdles to cross before the resort and retail development could become reality.
"I think there's enough city safeguards," Himpel said. "We have tons of safeguards with this thing that I'm ready to spin the wheel the first time and see where it gets us.
"I may not be willing to spin the wheel the next time."