Dynamic Doodler: Tonganoxie students Google entry named best in Kansas; online voting ends May 18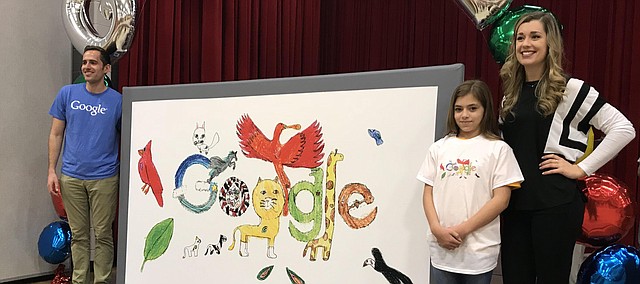 Editor's note: To vote for Anna's entry, click here. You can vote multiple times and the contest is open until 2 a.m. CST May 18. Her entry is in the Grades 4-5 category.
Google representatives kept Tonganoxie Elementary School students in suspense as long as they could Thursday during an assembly at the TES gymnasium.
A TES student was named the Kansas winner of this year's Doodle 4 Google contest, but who in the crowd was the winner?
Googlers, as the employees called themselves, unveiled clues one by one.
The winner likes cats.
Her favorite color is purple.
She is in Kalli Kruse's fifth-grade class.
And then came the announcement: Judges selected Anna Heskett as Kansas' representative in the Doodle 4 Google contest. She was one of 53 students from various states and territories picked from some 200,000 entries of doodles — the variations of the Google logo atop its homepage.
Asked about her reaction when her name was announced, Anna's response was simple.
"Shocked," she said.
Google employees Andy Makielski from the Chicago office and Hunter Cook — a Tonganoxie High School graduate herself now working at company headquarters in Silicon Valley — presented Anna with a Google Chromebook as part of her contest winnings. She also received a shirt blazoned with her doodle and other Google swag.
Anna's parents Andrew and Deb Heskett actually were contacted a couple weeks ago with the news.
"We just had to keep it top secret," Deb said.
Andrew said it wasn't always an easy task.
"We had to be careful what we talked about at the household," Andrew said. "We did a good enough job of keeping it quiet."
Anna's parents said she loves animals, including the family's array of chickens, cats and dogs.
That might explain Anna's animal-filled doodle.
An Arizona coral snake guarding its eggs formed the first "o;" a wingless dragon took the shape of the lower-case "g." A giraffe served as the 'l" and a squirrel holding an acorn assumed the role of the "e."
Other animals in the doodle: two cats, two kittens, a phoenix, a winged unicorn, a fish and an eagle. The Googlers also presented TES principal Ty Poell with a plaque commemorating Anna's achievement.
Online voting will determine national finalists, with one winner being selected in each of five grade divisions (K-3, 4-5, 6-7, 8-9 and 10-12). Voting opened May 7 and will run until 2 a.m. CST May 18.
Poell told Anna that the community would be rallying behind her and spreading the word to vote online.
"We want you to win this, OK?" Poell said.
Makielski said Google employees were asked to give a short list of states to visit if they were selected for the ceremonies.
For Cook, it was no-brainer to pencil in Kansas. If selected, it would be a plane trip to her home state and an opportunity to see her family. Maybe the winner would be from Wichita or the like, Cook thought. It still would allow a chance to visit family.
It turned out to actually be home.
A 2013 Tonganoxie High School graduate, Cook graduated in May 2017 from Wharton School, the business school at the University of Pennsylvania. Now a product marketing manager at Google, the Ivy League graduate got to see the new TES for the first time since it opened in 2015 and to reunite with a couple teachers.
"It was so exciting," Cook said about presenting the award.
She also said she hoped her visit showed local students it's possible to go on to college and be successful — not just locally but at throughout the country.
The TES principal seemed to echo those sentiments during remarks at the assembly.
"Your future is unlimited," Poell said.
Judges who determined the 53 state and territory winners were actors Neil Patrick Harris and Ty Burrell; U.S. Olympic medalist, entrepreneur and activist Ibtihaj Muhammad; U.S. Olympic gymnastics gold medalist Laurie Hernandez; former Kansas City Royal outfielder Carlos Beltran; Elaine Welteroth, former editor-in-chief of Teen Vogue; and Sydney Chaffee, 2017 National Teacher of the Year.