Helping hands from Tonganoxie in Guatemala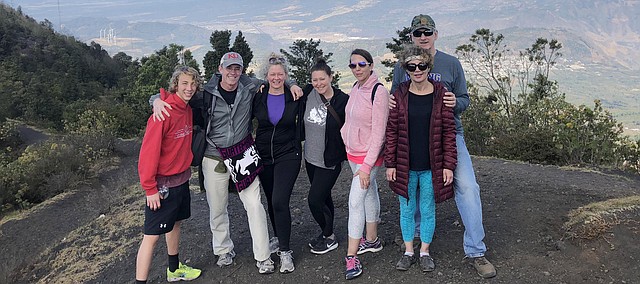 Thanks to a group of local volunteers, Guatemalan villagers have healthier smiles and improved roofs over their heads.
Tonganoxie resident Kay Soetaert led a group of 13 volunteers in February to San Juan la Laguna on the shore of Lake Atitlan in Guatemala for medical and dental outreach, as well as home construction.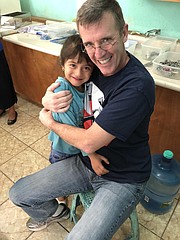 Soetaert said she has gone to the Central American country some 15 times for mission work, many times with St. Mark's United Methodist Church from Overland Park.
She said that group often takes Tonganoxie residents, since a St. Mark's member, Cheryl Ingersol, is a sister to Tonganoxie's Karen Stephenson.
Though this year's group wasn't affiliated with a church, the trip was in cooperation with ODIM Guatemala, a Methodist-based nonprofit organization first provided assistance in the aftermath of Hurricane Stan in 2005.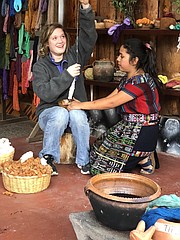 That storm killed thousands and devastated the country.
Several from the area have been on the assistance trips there, including the Rev. Jeff Clinger, a former Tonganoxie UMC pastor.
Tonganoxie dentist Grant Ritchey also has been on the trips before and again went this year.
He provided cleanings, fillings and extractions for a nominal fee of what amounted to about $4 U.S. Kay's granddaughters Emily and Anna also went on the trip. Emily had been on other trips to Guatemala with her grandmother, but this was the first trip for Anna, who assisted Ritchey on the trip.
Heather DeMaranville, school nurse for Tonganoxie middle and high schools, assisted with medical treatment during the trip, while others also helped with construction of homes in the village.
Fellow Tonganoxie residents Scott and Misty Vick and son, Scotty, also went on the trip, as did Diane Toby of Kansas City, Mo., and Kay Soetaert's cousin Asfar Emery and Asfar's husband, David, of Tulsa, Okla.
A team from Wamego prepared footings during an earlier trip so that the Tonganoxie group could build up a simple two-room cinder block house with a modest bathroom for a family in San Pablo..
Ritchey worked in San Juan providing dental care, while many of the others mostly worked in San Pablo.
"It's very enlightening to go there and walk in solidarity with the people and help them," Soetaert said. "It means a lot to them. You give up your bed and your conveniences in the states to live with them for a week."
Ritchey said he wanted to increase the frequency of visits there because of the huge amount of dental disease. He said most young children have multiple cavities and abscesses.
He wants to start an education program in the clinic and in the local schools, and to supply fluoride varnish for application to all children.
Ritchey's goal is to reduce the amount of tooth decay by at least 50 percent.
"Many people fall in love with Guatemala and go back," Soetaert said. "There's a great need. It's actually a pretty easy mission trip because it's not that far out of the country, but also it's a different world than Tonganoxie."