Tonganoxie High boys track 2nd at final Kaw Valley League meet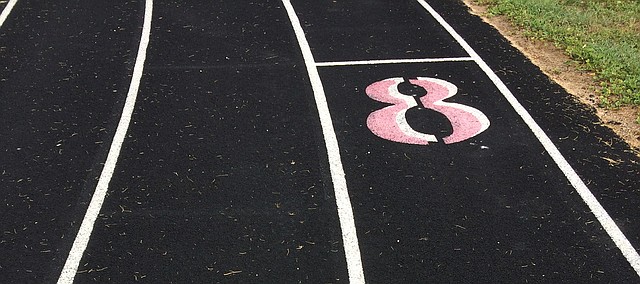 The Tonganoxie High boys track team made a push for a Kaw Valley League title on Wednesday, May 9.
THS finished the meet in second place with 133.5 points. Piper won the meet with 160.
The Chieftains were able to finish ahead of Lansing, which took third (119.5) in the final KVL meet in history.
Basehor-Linwood placed fourth (85), Bonner Springs fifth (59), Turner sixth (44) and Ward seventh (4).
THS placed fourth on the girls side with 87 points.
Basehor-Linwood won the meet with 145, while Lansing was right behind at 139. Piper placed third with 108.
Bonner finished fifth with 75 and Turner sixth with 44.
Calvin Morgan won gold in the 3,200. He finished the race in 10 minutes, 32.23 seconds. Teammate Jacob Foley finished fifth with a 10:51.78 time.
LeeRoi Johnson also won gold in the shot and discus.
He won shot with a throw of 52 feet, 11 inches and discus with a toss of 175-11.
Kyle Snyder took third in shot with a 51-0 throw, while Cole Sample was right behind with a 47-4 throw.
Snyder nabbed third in the discus (148-7) and Sample seventh (123-5).
Zac Morgan and Elijah Tyner finished third and fourth, respectively, in the 100 meters. Morgan ran it in 11.83 seconds and Tyner in 11.85.
Drake Pray placed sixth in the 400 (54.14), while Josh Bosley scored a point in the 800 with a seventh-place finish (2:12.8).
Calvin Morgan also placed fifth in the 1,600 meters with a 5:03.63 time. Dylan Graham was right behind with a 5:04.69 time, good for sixth.
Dallas Bond placed fifth in both the 110 hurdles and the 300 hurdles. The freshman recorded a 17.59 time in the 110 and 45.9 in the 300.
In the 4x100 relay, the THS team of Dalton Bock, Elijah Tyner, Zac Morgan and Drake Pray placed third with a 44.96 time.
Pray, Tyner, Lucas McCoy and Bond placed third in the 4x400 (3:35.78).
Staying consistent, the Chieftains also placed third in the 4x800, as Bosley, Graham, Foley and Jakob Edholm placed third (8:50.28).
Eric Neas took third in the high jump (5-10), hile Bond was fifth (5-4). Wyatt Martin and Dylan Lang placed second and fourth, respectively in the pole vault. Martin cleared 11-6 and Lang 10-0.
In the long jump, Neas and Lucas McCoy were 2-3. Neas got silver with a 20-5 leap, while McCoy took bronze with a 19-10 mark.
And in the triple jump, Neas placed fourth with a 40-6.5 mark.
Rounding out the THS boys' scoring was Snyder, who placed fifth in the javelin (142-5).
Looking at the regional field
The Tonganoxie track teams will have some KVL neighbors competing Friday at the Clay Center Regional also, but the reginoal mostly will be a chance to see some new blood.
Basehor-Linwood, Piper and Bonner Springs will be there from the KVL, as will another neighbor in Atchison. The rest of the field is Abilene, Chapman, Clay Center, Concordia, Hays, Holton, Marysville, Jeff West, Rock Creek, Hayden and Wamego.