Winner in Wamego: Tonganoxie softball wins regional, headed to state for first time in 12 years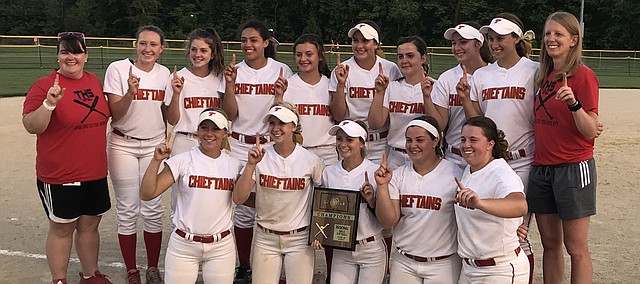 Wamego — If victory truly has a sweet taste, the Tonganoxie High softball team grabbed a spoon, took a big bite and savored the most decadent dessert Tuesday in Wamego.
No. 1 THS (18-4) won, 7-4, against Eudora (17-5), marking the first time since 2006 the Chieftains qualified for state.
It's been 12 years, but that sweet state taste coulda, shoulda, woulda emerged in recent years.
Tonganoxie reached the regional championship each of the previous three seasons — only to lose each of them by a run.
In 2015, THS, the higher seed that had swept Baldwin eight days earlier fell, 5-4, to the Bulldogs on their field under drury, overcast skies.
In 2016, Tonganoxie fell, 5-4, to Eudora.
In 2017, THS found its most bitter ending. Tonganoxie put together a this-has-to-be-the-year six-run rally in the final at-bat for a 7-6 victory against rival Basehor-Linwood on Tonganoxie's home field. In the championship, THS couldn't hold on late in a back-and-forth game and lost, 11-10.
Tuesday's regional would be nothing like those.
Tonganoxie routed Atchison, 22-0, in three innings in the regional semifinal, while Eudora got past Wamego, 2-0, in the other semifinal.
In the championship, Eudora actually drew first blood and had a 1-0 lead heading into the third.
It would be the Cardinals' only lead of the game.
Torrisssa Hootman walked and eventually advanced to third before Makenzie Sample batted her in with single to left.
In the fourth, Audrey Miller put THS ahead with a homer to straightaway center. THS got the bases loaded later in the inning when Lauren Willson's single to right scored two more.
The 4-1 lead turned into 6-1 in the fifth. Brenn Shryock's well-executed slap bunt to third forced a throwing error to first and two more runs scored.
In the bottom of the sixth, leading 6-2 and threatening to score again with Willson on third, Delainey Fenoglio executed a squeeze play. She was safe at first and Willson slid under the tag at home.
In the seventh, leading 7-3, with two out, a Eudora batter hit a grounder to third. The throw to first was good and the celebration began.
It was hard to tell from Tonganoxie players' body language that the Eudora was down to its last out. Everyone seemed calm and cool.
That's been a noticeable trait this year, according to Wittman. Expectations were high — Tonganoxie was supposed to be right where it was.
"This is the most selfless team I have ever coached," Wittman said. "I'm so happy for our team and our seniors."
She also praised Eudora's pitcher, who put in 13 innings pitching both games.
"Very impressive," Wittman said. "As a coach, going against her, we had to strategize."
Tonganoxie now awaits the release of brackets, which will come after tomorrow's Piper-Bonner Springs regional championship.
THS likely will be a No. 4 or No. 5 seed and play Andale.
That's the scenario if Piper (19-2) defeats Bonner Springs (10-11).
If Bonner were able to spring the upset, THS would be a No. 3 or No. 4 seed, as the Chieftains have the same record as Andale.
No matter how the bracket shakes out, Wittman is expecting her team to perform well.
As players chatted with fans on the field after the game, a couple players grabbed the dugout cooler and gave Wittman a celebratory shower.
The THS coach even had a high level of confidence in how that was going to go. She wanted no part of a sticky sports drink bath.
"Water," Wittman said. "I wasn't going to bring Gatorade to this thing."