Latest Mexican restaurant opens in Tonganoxie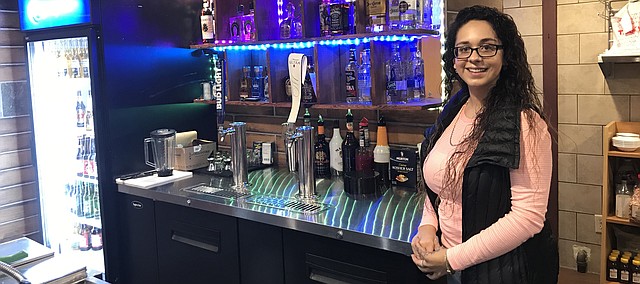 Rebecca Mier is excited about her family's newest restaurant.
Ajuua! Mexican Grill and Cantina opened Oct. 22 at 300 N. Village Terrace just off East U.S. Highway 24-40 in Tonganoxie.
Mier said extensive modeling is complete at the restaurant, the former Mirth Cafe, and the community has been very welcoming.
Originally from Topeka, Mier's enthusiasm is fitting considering the name of the restaurant.
She said you won't find a translation for the restaurant's namesake (pronounced Ah-hoo-ah) because it's more of a thing people yell at parties with Mexican roots.
"It's something you yell when having a good time and a good meal," she said.
The family also has Tacos El Sol in Topeka, Tres Mexicanos in Lawrence and El Sol in Ottawa.
She said that so far customers are finding numerous items popular on the menu, she said.
"Everybody loves different things," Mier said.
Chimichangas and enchiladas have been popular, and she's gotten favorable reviews about the restaurant's varying salsas.
Mier said her family always is looking to expand, and Tonganoxie seemed the right fit. The offer for the building space was one that couldn't be passed up, she said, and Tonganoxie was the right size for their restaurant. The community now has Mexican restaurants on opposite ends of U.S. 24-40, as Jalapeños is on the west side of town.
On Tuesdays, the restaurant serves 99-cent tacos and 2-for-1 jumbo margaritas.
"The margaritas are where it's at, really," she said.
Mier also noted that the quality isn't compromised with the special deal.
"When you can get a margarita on sale and it still tastes delicious, I think you're winning," she said with a laugh.
Rebecca also was quick to praise her father, Remigio Mier, for his jack-of-all-trades abilities. The food is based on his recipes and when there's a plumbing or other maintenance issue, Remigio is on it.
"My father came from California," she explained. "He always has been a great cook. His time there helped him improve his craft.
"He puts his all into everywhere we go. I make sure there is enough salt."
The restaurant currently is open 11 a.m.-9 p.m. Sunday through Thursday and 11 a.m.-10 p.m. Fridays and Saturdays. Rebecca said she hopes to eventually have later hours.
Ajuua! brings employees from the Miers' other restaurants to get established and then hire local employees.
Rebecca welcomes the community to give the restaurant a try.
"If you have a happy stomach, you have a happy heart," she said.