Leavenworth County celebrating 99th annual Veterans Day Parade; Tonganoxie to honor vets with inaugural program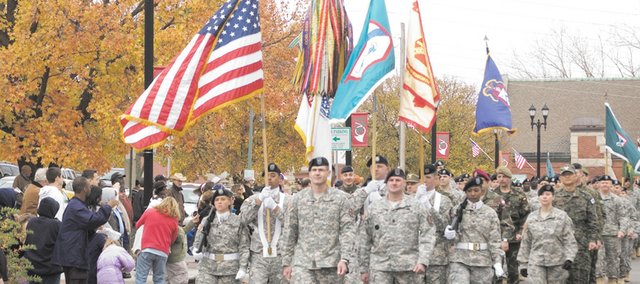 The 99th annual Leavenworth County Veterans Day Parade — dubbed as the oldest Veterans Day observance — is coming Monday morning to Leavenworth.
This year's parade starts at 10:30 a.m. in downtown Leavenworth, with staging starting at 9 a.m.
Monetary awards will be given for best floats and other entries.
This year's theme is "The War to End All Wars."
Monday's parade will have two grand marshals: David W. Jones, Sgt. 1st Class in the U.S. Army, and John N. Ochs, sergeant in the Marine Corps.
Jones served in both the Army and Navy from 1943-45 during World War II and continued his service for 20 years. Bill, or Davey as he also is known, served as post commander of VFW Post 56 in Leavenworth and was District 1 commander from 1993-94.
Born in Macon, Mo., Jones has four children, David Jr., Billie K., Linda and Robert.
Ochs served in the Korean War from 1951-53. A draftee, he also served in Japan and is a life member of VFW Post 56. He has two children, Roger and Terri Reynolds. Ochs is a lifelong Leavenworth resident.
First Vets Day program at THS is Monday
Tonganoxie USD 464 will have its inaugural Veterans Day Program on Monday afternoon at the Tonganoxie Performing Arts Center on the Tonganoxie High School east campus.
A veterans reception starts at 1 p.m., with a program to begin at 1:45 p.m.
Veterans, along with the general public are invited to celebrate veterans' service. The Tonganoxie High School band will perform, as will the THS choir.
Organizers are hoping for a full house at TPAC for the event, so those wanting to attend should arrive early. Though school is not in session, school officials are hoping for large student attendance.
Soup and chili meal
for veterans at VFW Hall
Veterans can head to the Tonganoxie VFW Post Home after the celebration at the high school for a soup and chili feed.
VFW Women's Auxiliary 9271 will be hosting the free soup and chili meal from 3-6 p.m. Monday at the post home, 910 E. First St. All veterans and their families are welcome at the event.