Mayor's Christmas Tree Lighting festivities Saturday; library event at future site also planned in Tonganoxie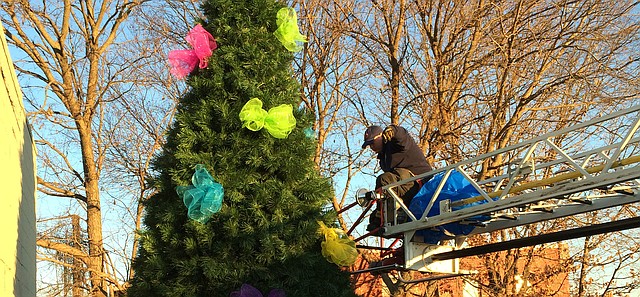 Downtown Tonganoxie soon will be getting festive for the holiday season and also denoting work on a new landmark.
The Mayor's Christmas Tree Lighting festivities will start about 5:30 p.m. Saturday at the downtown pocket park, Fourth and Delaware streets.
At 5:35 p.m., there will be a THS Jazz Band performance. At 6 p.m., there will be a children's choir performance.
Santa and Mayor Jason Ward will arrive about 6:30 p.m. before Ward reads "Twas the Night Before Christmas."
The tree lighting then is planned to happen at 6:40 p.m.
This year's downtown decorations will include giant stocking cutouts made of wood that Tonganoxie High School industrial arts students cut out. Tonganoxie Business Association partnered with the students to create the colorful decorations.
Ward again this year is doing his Mayor's Christmas Food Drive Challenge. Tonganoxie Elementary School students have a friendly competition to see which class can accumulate the most canned good items to give to Good Shepherd Thrift Store and Food Bank.
Students in the winning class will have their names painted on the stockings that hang throughout the downtown area.
Celebrating at the new library site
Activities to celebrate the building of a new Tonganoxie Public Library will take place before the Mayor's Christmas Tree Lighting on Saturday.
The event will be 3-5 p.m. near Fourth and Shawnee streets, which is near the site of to-be-constructed library.
There will be a touch-a-truck event, 50/50 raffle, handing out of free books to children and the unveiling of plans for the new library.
Tonganoxie alumni also will be able to sign large photos of former landmarks of the property, which served as various schools for Tonganoxie USD 464 through the years, most recently Tonganoxie Elementary School. Photos of the former and current libraries also will be on hand. The previous library actually was at Fourth and Delaware streets where the downtown pocket park is now.
The property, on the northeast corner of Fourth and Delaware, was the police station before becoming the pocket park a few years ago.
A tent will be set up on the future library site for the library activities that day. Proceeds from the raffle will go to the library foundation.