Tonganoxie High performs 'School of Rock'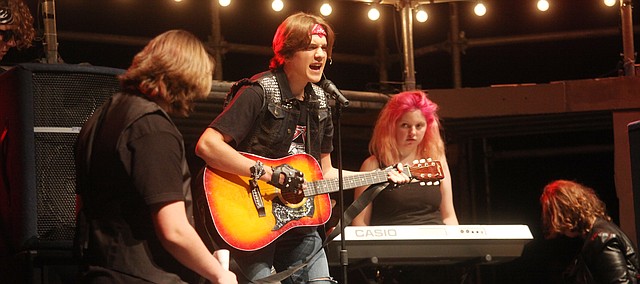 Anyone wanting to get nostalgic about high school or college in the 1980s or early 1990s got their fill of rock songs — and even some love ballads — last week at the Tonganoxie Performing Arts Center on the Tonganoxie High School campus.
THS students performed Samuel French's "Rock of Ages" (High School Edition) Thursday through Saturday at the Tonganoxie Performing Arts Center on the Tonganoxie High School east campus.
The musical is based on the Broadway version that also became a 2012 motion picture featuring an all-star cast of Tom Cruise, Mary J. Blige, Catherine Zeta-Jones, Alec Baldwin, Paul Giamatti and more. The show takes place on Southern California's famed Sunset Strip during the Reagan Era, home to Dupree's Bourbon Room and The Venus a Go-Go.
Maureen Wetta played the role of Lonny Barnett, while Carmen Snyder was Maverick and Brendan Rogers was Drew Boley. Emilie Crowley played Sherrie Christian and Dennis Dupree was Jack Duvall.
Also playing various roles were Lauren Lawson (Hilda Klineman), Joey Fletcher (Franz Klineman), Sarah Dunkle (Anita Bath), Madisen Lansing (Stacee Jaxx), Andrea Zesati (Justice Charlier), Adam DeMaranville (Sherrie's father), Amber Adcox (Sherrie's mother), Payton Lynn (Constance Sack), Alex Falk (Ja'Keith), Harrison York (Mayor) and Logan Cox (Joey Primo).
The Rockers were Brienna Stoddard, Chance Daniels-Owen and Chloe Temple. Waitresses were Ashtin Barnes, Madison Schifelbein and Ally Albert.
Playing the roles of protestors, the bar crowd and riot police were Lauryn Jimenez, Cora Lanza, Morgan Brusven, Monique Johnson, Grace Slabaugh, Adriana Holguin-Duarte, Hunter Calovich, Caden Phillips and Jacob Howell.
Members of the band Arsenal: Gwen Slabaugh (guitar), Brynna Ladesic (bass), Jordyn Bosley (drums), Anna Edmond (keyboard), Jake Edholm (guitar) and Noah Dial (drum).
Members of the Venus-A-Go-Go Club dancers, waitresses and groupies were Aspen Moritz, Katie Arguijo, MoriaVittoria Pilli, Silvia Mastrorosa, Laura Hugens, Malena Bond, Sadie Atchison Jenna Trull, Kristi Chambers, Tessa Calovich, Emma Morgan, Meghan Agnew, Rebekah Farrow and Macy Geiger.
Stage manager for "Rock of Ages" was Kristyn Trull.
Steve Harrell served as director, Tom Gifford vocal director and Debbie Holloway props director.
Carissa Welsh handled choreographer duties.
Seniors performing their final fall musicals were Gwen Slabaugh, Adam DeMaranville, Alex Falk, Maureen Wetta, Madisen Lansing, Maria Vittoria Pilli, Brendan Rogers, Kate Arguijo, Harrison York and Amber Adcox.
Additional THS upcoming events are the National Honor Society induction ceremony Thursday at TPAC, Madrigal Feaste on Dec. 7 and 8 at Tonganoxie Middle School and the Winter Band Concert on Dec. 10 at TPAC.