Crowd flocks to Perry-Lecompton High School to see tree headed for
U.S.

Capitol grounds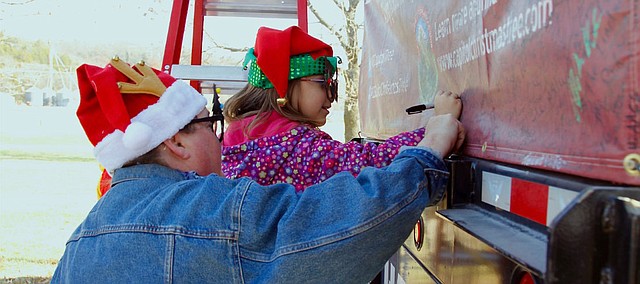 Barb McGoyne, of Topeka, made a confession Tuesday as she lifted her 7-year-old niece, Sophia Hoppas, so the girl cold sign the tarp of a semitrailer flatbed parked in front of Perry-Lecompton High School.
"We played hooky to come here," she said. "It looked like fun."
McGoyne and her niece were among the about 1,000 people crowding around the semitrailer at the high school. The draw was the cargo that filled the length of the flatbed and was nearly all concealed with tarps, proclaiming "The U.S. Capitol Christmas Tree — The People's Tree." The top 10 feet of the tree, decorated with ornaments, were visible behind screens.
Gov. Jeff Colyer and Santa Claus arrive at Perry-Lecompton High School in a stage coach to give brief remarks at an event marking a stop of a semitruck transporting the U.S. Capitol Christmas tree from Oregon to Washington, D.C., on Tuesday, Nov. 20, 2018.
The crowd was invited to sign the truck's tarp and entertained by brief remarks from Gov. Jeff Colyer and Santa Claus, plus the performance of holiday standards by the Perry-Lecompton High School band.
Fred Perl, a law enforcement officer with the U.S. Forestry Service providing security for the trip, said Perry was one of about 30 stops the truck and its cargo had made since it left for Washington, D.C., on Nov. 9. The tree was harvested from the Willamette National Forest in Oregon and will be displayed on the west lawn of the U.S. Capitol grounds. Speaker of the House Paul Ryan will oversee the annual U.S. Capitol tree lighting ceremony on Dec. 5, he said.
In brief remarks after arriving at the high school in a horse-drawn stage, Colyer said it was appropriate that the tree stopped in Perry. The town was on the Oregon Trail, which is the route the tree is traveling on the first half of its trip to the nation's capital, he said.