Remember When: A Community Review for Nov. 21, 2018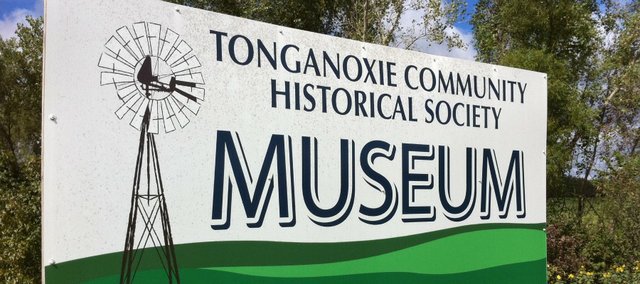 10 years ago: Nov. 19, 2008
Monday night, the Tonganoxie Chamber of Commerce proposed that the chamber become a permanent part of the city's budget. The chamber has been an organization promoting city businesses and having events that promote the city, but lately they have been putting in a lot more hours trying to raise funds to keep programs such as the St. Patrick's Day Parade and the Mayor's Christmas Tree Lighting afloat.
A meeting will take place at 7 p.m. Thursday at Tonganoxie Public Library, Third and Bury streets, in a continuing effort to establish an Optimist Club chapter in Tonganoxie. The organization requires 25 members join in order to charter the new club.
Students from Jerry Wilken's fourth-grade class helped pack and deliver food items to the Good Shepherd Thrift Store and Food Pantry. Tonganoxie Elementary School students sponsored a food drive, for which each grade level was assigned a certain type of product to bring. Students help sort, bag and deliver the items. By Thursday, 1,290 items were collected and delivered to the pantry.
Students at Tonganoxie Elementary School are working on various writing projects in the days leading up to Thanksgiving. Student in one class are writing about what they're thankful for. One class will have students' writings about how to properly prepare a turkey. Another will take a humorous look at turkeys with a persuasive writing project about why people should find other things to eat instead of turkey.
25 years ago: Nov. 24, 1993
Bessie Sanders, Tonganoxie, celebrated her 102nd birthday on Nov. 22.
Born in a log cabin in Virginia, Sanders moved to Kansas in 1924.
Destrey Jostmeyer, manager of Wolcott & Lincoln grain elevator in Tonganoxie knows about the grain business after harvest.
For the next few months, employees will be busy sacking, and making maintenance adjustments. "Sacking orders" consists of pulling from feed storage for phone orders – farmers who are looking for grain for their livestock. "Custom grinding" is when customers take in their own grain, have it mixed, ground down and sacked to feed livestock. Wolcott & Lincoln has run the elevator in Tonganoxie since 1978.
School Board President Dan Huffman would like to see shortened USD 464 school board meetings. He will break from the past by insisting that spontaneous audience participation be denied, unless a district patron has asked beforehand to address the item or topic. "That will not keep people from talking to board members," Huffman said. "It just means that discussion with them will have to be one-on-one and not during the meeting."
"What I'm trying to avoid is those long- protracted meetings that last four or five hours. I don't want to make decisions at such a late hour when I'm tired, frustrated and emotional. I believe patrons will be encouraged to talk more directly to board members. That one-on-one exchange has the potential to address subject more thoroughly. Then our board members can come back to our meetings and share those problems or concerns with all of us."

50 years ago: Nov. 14, 1968
Tonganoxie Mirror had reports last Saturday of earth tremors from Mrs. Frank Hoey.
According to Channel 4 news there was an expectation of a long snowy winter.
The rebelliousness of youth was opined in the Mirror's weekly comment section.
Their rejection of the Vietnam War, oldster habits like nicotine and alcohol, yet their curiousity about pot, the Pill, mini-skirts, long hair, college riots and then an answer to a single question - what single book should survive a catastrophe? The Bible was the answer.
Kids will turn out alright was the final sentence.
An insulated Big Smith zip up jacket was $8.45 at Zoellners.
75 years ago: Nov. 25, 1943
If you should observe all members of a family around a card table, with their hands flat on it, shouting table-up – you might think a lot of people are somewhat looney – but it is happening almost anywhere in Tonganoxie. It is a revival of the old-fashioned Ouiji board of former years, when one end of the table rises and questions are asked about like this: "When will the war end?" "When will Johnny be home?"
Merle Black, of the U.S. Navy, writes that he had a nice visit with a former teacher, Lt. Col. Urban Hess, who is stationed in the Hawaiian Islands. Merle, aboard a destroyer, the U.S.S. Morris, is again in the battle zone of the Pacific after having spent a furlough recently with his parents, Mr. and Mrs. M.F. Black.
Times have changed. A dog brought $41 at the W.C. Gabel farm sale. True, it wasn't an ordinary pup, but a shepherd heeler.
It was bid up with hot competition by seven or eight bidders.
Foster Laming was the successful bidder. Many yarns are going around about prices of ordinary things at farm sales, but $41 seems to top the dog market.
100 years ago: Nov. 21, 1918
It was two months and three days after it occurred that the Hamil family heard from the War Department that Lester had been killed. The message arrived Friday evening, and announced that he had been killed in action Sept. 12.
Saturday afternoon not a barber shop was open in town, and only one in the evening. Before the war part of the time on Saturday evenings five barbers were kept busy.
Anyone having boys in the service will please notify Mrs. George W. Phenicie, of Reno, before Thanksgiving Day, so that proper representation may be made on the service flag in the Reno church.
Kansas had 56,071 cases of influenza reported by the physicians of the state since the outbreak of the disease six weeks ago.
125 years ago: Nov. 23, 18935
The Leavenworth Times of yesterday morning contained the following item relative to the letting of the contract for furnishing coal to the county:
Bidders to furnish coal for county purposes had their bids opened yesterday by Commissioner Hannon.
The contract will amount to about $1,000. The bids were M.V. Donovan 9 cents per bushel; Kansas and Texas Coal Co. 9; A.M. Geiger 9 cents; Home Coal Co. 10, 2-5 cent; J.J. McDonald, 11 cents; Leavenworth Coal Company, 12 cents. The contract was awarded to Mr. Donovan for one year. Coal was being delivered about the city yesterday for 7 cents a bushel or $1.75 per ton.
It looks a little peculiar that the county must pay more per bushel for coal in large quantities than a small consumer. The board should have investigated if the dealers had entered into a combination to get a stiff price for coal. The county should not pay nine cents per bushel when small consumers can get it seven.
William Todd received his certificate of election as road overseer of District No. 9 this week. William thinks we have treated him badly in not mentioning his election to what he considers one of the most important offices in the gift of the people, and we make haste to do justice to an official who gives his entire time and attention to his duties.
The Bruce-Le Van block is now being plastered.