Leighty grant distributes $75,000 to local groups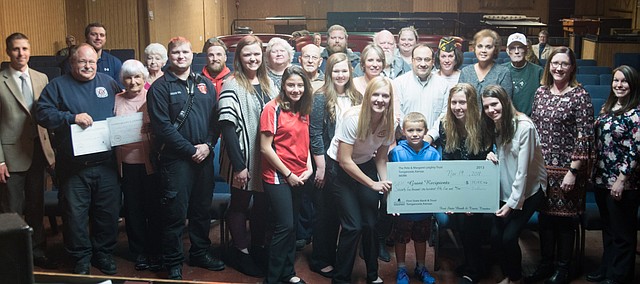 Local organizations, departments and groups received more than $75,000 in grant funding this year thanks to another generous distribution from the Pete and Margaret Leighty scholarship.
This marks the ninth year that the grant program has distributed funds through a committee of community members that selects the grant recipients.
In total, the program has given out $441,000 in grants through the past nine years.
Educational programs again highlighted the winning recipients this year.
Genesis Schools received a $2,760 grant to improve technology, including a goal to fund the purchase of 12 Chrome Books and enhance technology resources overall at Genesis Christian Academy.
Tonganoxie USD 464 received 10 grants worth just more than $36,500.
Those grants were as follows:
• Social emotional learning ($439) for the fifth-grade classroom. The grant will cover costs of Second Step, a program that helps with soft skills students can learn through modeling.
• Virtual reality in the classroom ($9,800) for 30 virtual reality viewers. The devices will be used to stimulate in-depth learning. Research shows people can improve their understanding of concepts and increase engagement with pictures and visuals.
• Exploring American History through Music and Sports ($1,620) through LeAnn Bond with the Tonganoxie Middle School elective team. The project will allow seventh-graders to take a field trip to the American Jazz Museum and Negro Leagues Baseball Museum. Students will get a glimpse of jazz music and how the Negro Leagues changed the face of athletics around the nation.
• The TMS music department ($5,000) will get new choir risers. The USD 464 Education Foundation is assisting with the financing of the risers, which will replace outdated and unsafe risers.
• PlasmaCam plasma cutting table ($9,855) for Tonganoxie Agricultural Education. A plasma cutting table uses a hand-held plasma torch and computer software to cut out any design or shape out of metal, The project will provide students with an opportunity to get hands on learning experience with innovative technology that can be used for several different purposes.
• Entrepreneurship skills ($500) for Tonganoxie High School Life Skills. The goal of the project is to create a self-sustaining classroom business to sell clothing, window decals and greeting cards to fund classroom projects. Students in the program will gain job skills, social skills and problem solving skills.
• Find Your Voice the Chieftain Way ($250) for Family, Career and Community Leaders of America. Project leaders are Meghan Agnew, Emilie Crowley and Emma Rawlings. Project leaders plan to teach eighth-graders about challenges they may face in high school. They hope to create a lesson that can be used every year.
• Memory Lane ($250) for FCCLA. Project leaders are Morgan Brusven and Adriana Holguin-Duarte. The project aims to create a better understanding between youth and adults by creating a bond between youth and elderly in the community.
• JLT Buddy Camp System ($4,000) for THS industrial arts. Funds will be used to purchase the camp system. The project utilizes vertical shelving and row system to save floor space. It also will make better use of space when students are gluing panels and doors together while allowing students to work with industry recognized equipment.
Other recipients
• Cornerstone Family Worship ($1,250) for Be New Youth Center. The grant provides funds to assist with the launch of the community youth center.
• Eagle Cemetery ($500) for stone repair.
The cemetery will use the grant to repair the most dilapidated headstones in the cemetery. Stones have been damaged with time, earthquakes and the ground compressing under the stones. Some graves and headstones date back to the late 1800s.
• Tonganoxie City Fire Department ($5,632) for a toxic gas detection meter. The purchase will allow TFD to detect and identify gases present during fire and non-fire emergencies.
• Stranger Township Fire Department ($4,530) for Just One Rung on the Ladder to Protect Firefighters Health. Funds will be used toward the purchase of a commercial washer-extractor that meets National Fire Protection Association recommendations. When working in a hazardous environment, there are many opportunities for multiple types of contamination of a fire fighter's gear. The washer-extractor properly cleans the firefighters' gear.
• Tonganoxie Community Historical Society ($7,400) for updating aging light fixtures with LED fixtures in the barn, museum and firehouse. LED lighting will allow for more reliable and brighter lighting levels in the buildings, eliminate the ill effect of fluorescent lighting on artifacts and reduce monthly electrical costs.
• Tonganoxie Senior Citizens, Inc. ($5,000) for handicapped entrance doors at the Florence Riford Senior Center. The group plans to install automatic doors.
• Tonganoxie VFW Post 9271 ($11,491) for Operation Park Improvement. VFW members want to provide new park equipment at VFW Park that promotes fitness, good health and is a place for families to enjoy the outdoors while remembering those who served in the military.