Pumpkins, mazes and more at new Leavenworth County farm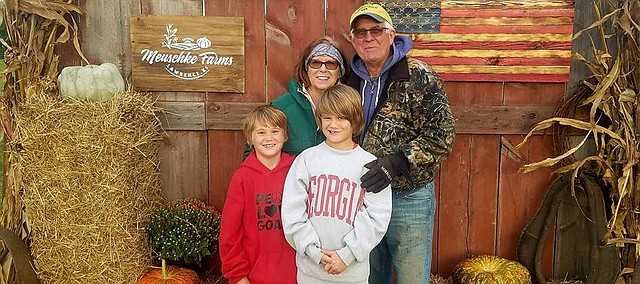 Meuschke Farms is the newest offering in the growing Kansas agritourism landscape.
Owner Shane Meuschke (prounounced "My-skee") has a corn maze, pumpkin patch, hayrides and even a hay bale pyramid for youths to climb up.
The family also has mums at the farm, which is in southern Leavenworth County just north of the Douglas County line.
The fall attraction is at 246th and Alexander Road. If you're traveling along Kansas Highway 32, you take 246th Street south from K-32.
The attraction offers food trucks and some live entertainment, but Meuschke is keeping it simple in promoting his brand.
"Strictly agritourism," he said. "No jumping houses."
But there is a fire pit for s'mores and some planned Friday night and Saturday night movies under the stars.
The first corn maze is geared more toward youths 12 and younger, but Meuschke plans to build on the product with time.
After all, the business is in its infancy.
Meuschke, originally from the Columbia, Mo., area, purchased the land about a year ago.
He said he wanted to make it through the four seasons before making any quick decisions on making the farm a seasonal business.
But now he's ready for customers.
"The fall is my favorite season," Meuschke said.
He also has helpers — sons Cade, who will be 10 in November, and Cohen, who is 8.
The boys have become great helpers for whatever customers need, according to their father.
The family has pasture-raised pork and beef on a small scale, along with chickens.
There also are goats, which help keep the weeds down and are "fun to have around."
The poultry are a nod to Meuschke's grandfather, Bud Meushcke, who raised chickens for many years near Warrensburg, Mo.
"It's in honor of him," Shane said. "I don't know how he did it for so many decades.
Shane's parents also have gotten involved in the family business. His father, Jerry "Coach" Meuschke and his mother, Geri Meuschke, are planning to build a residence on the farm and move from Atlanta, where they currently reside.
Jerry, who is a hall of fame basketball coach, grew up in Missouri, while Geri grew up in north Georgia.
Shane said that his father is the official tractor operator at the farm and that his parents have been a big help with getting the business up and going.
Meuschke Farms did have a sunflower patch, but deer feasted on it, as well as some corn. The drought didn't help the corn maze, either, but Shane said his boys have had fun with it, as have other children.
The farm currently has a tent much like ones used during fireworks season as a temporary structure for selling items, including local honey.
Shane hopes to have a permanent structure by next fall that can be a country store of sorts.
Schools have visited the farm for educational field trips and people are welcome to come out for photos. Photographers have utilized the farm much like Grinter Farms for the sunflowers. He asks that photographers make a donation, but welcomes residents to take in the sights also.
He said being a single dad, he knows what trying to find entertainment on a budget can look like.
He hopes his business can provide some great entertainment at a reasonable price. That's sometimes free, but Meuschke also is OK with that.
"We have fun things to do that don't cost your arm and leg," Shane said. " Come out and enjoy the free air."
The farm is open 10 a.m.-5 p.m. during the week and 9 a.m. until dark on Saturdays and 11 a.m. until dark on Sundays.
"We try to live a very authentic lifestyle that makes the boys really appreciate what this country is all about," Shane said.