Tonganoxie High defense stifles Baldwin in 20-0 Chieftain victory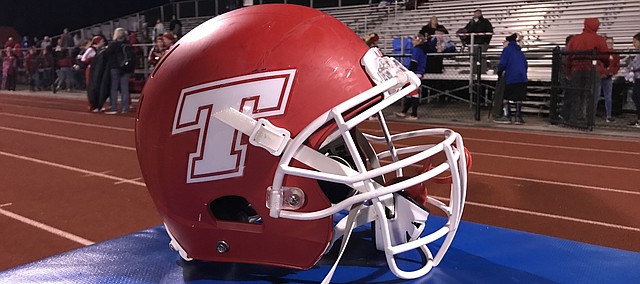 The Tonganoxie High defense managed its first shutout of the season Friday in a 20-0 victory against Baldwin at Beatty Field.
The Chieftains held the visiting Bulldogs to two first downs and just 35 plays compared to Tonganoxie's 18 first downs and 68 plays.
Senior Drake Pray led eight tackles (six solo), while junior Cole Sample had six (three solo). Senior Korbin Riedel managed five tackles (one solo), as did junior Dustin Rhoads (one solo). Sophomore Dallas Bond had four (two solo) and freshman Sam Kleidosty three (one solo).
Bond also had a sack defensively, while senior Hayden Robbins snagged an interception.
THS finished the game with 203 rushing yards and 84 passing yards.
Riedel had 141 yards on 31 carries, while junior Cooper Cunningham had 31 on seven carries. Junior Elijah Tyner had 16 yards on three carries and Pray 10 yards on eight carries. Robbins finished out the rushing statistics with five yards on four carries.
Robbins completed 8-of-14 passes for 67 yards, while Riedel completed a pass for 17 yards.
Tyner led receivers with 36 yards on four carries. Bond had 32 yards on three carries and Riedel 16 yards on two carries.
THS now leads the all-time series against Baldwin, 10-6.
Tonganoxie now has won five straight games and has held opponents to a touchdown or no score in three of them. THS is 5-2 overall and 5-1 in the Frontier League heading into next Friday's matchup, a 7 p.m. kickoff at Ottawa (0-7 and 0-6). It will be the first meeting between the schools.
Score by quarters
BHS 0 0 0 0 — 0
THS 7 0 7 6 — 20
Moving up the bracket
THS has moved up to the No. 7 spot in the Class 4A East bracket.
Conventional wisdom would suggest that will be Tonganoxie's spot when the playoffs start Oct. 26. Bishop Miege, currently the No. 5 seed, and Fort Scott, currently the No. 6 seed, also both are 5-2. Miege lost to St. Thomas Aquinas, 41-21, on Friday, while Fort Scott defeated Bolivar (Mo.), 28-27.
Miege sits at +50 points in the tiebreaker margin, while Fort Scott is at +32 and Tonganoxie at +21.
All three teams will be favored to win in the regular-season finale, as Miege plays a winless Blue Valley Northwest, Fort Scott is home to one-win Eudora and THS is on the road at winless Ottawa. If all three win, how big of a margin by which they win will be key. Tonganoxie has the best chance to leap frog with being 11 points behind Fort Scott heading into Week 8.
No. 3 Basehor-Linwood (6-1, +72) and No. 4 Pittsburg (6-1, +39), could drop down into that two-loss mix after this coming Friday.
BLHS takes on a 5-2 Schlagle team, while Pittsburg plays a 6-1 De Soto team.
If the playoffs were to start today, No. 7 Tonganoxie would take on No. 10 Piper (3-4, +4).
Full standings
Here are both the 4A East and 4A West brackets, which will be decided after next Friday's games:
East
Paola (7-0, +91)
Louisburg (7-0, +76)
Basehor-Linwood (6-1, +76)
Pittsburg (6-1, +39)
Bishop Miege (5-2, +50)
Fort Scott (5-2, +32)
Tonganoxie (5-2, +21)
Bonner Springs (4-3, +36)
Chanute (4-3, +14)
Piper (3-4, -6)
Atchison (3-4, -6)
Labette County (3-4, -14)
Spring Hill (3-4, -20)
Baldwin (2-5, -39)
Eudora (1-6, -65)
Ottawa (0-7, -91)
West
McPherson (7-0, +91)
Wellington (6-1, +59)
Goddard (5-2, +35)
Mulvane (5-2, +31)
Ulysses (3-3, -8)
Coffeyville (3-4, +4)
Winfield (3-4, +3)
Andover Central (3-4, 0)
Buhler (3-4, -5)
Abilene (3-4, -21)
El Dorado (2-5, -30)
Towanda-Circle (2-5, -37)
Arkansas City (2-5, -39)
Augusta (2-5, -54)
Rose Hill (0-7, -79)
Independence (0-7, -84)
Frontier League title clash
With a victory Friday against Ottawa, THS would wrap up a share of second place in the Frontier League.
Tonganoxie currently is in third place between undefeated Paola and Louisburg.
THS didn't play Paola in the regular season, but lost to Louisburg, 27-7, in Week 2. That, coincidentally, was Tonganoxie's last defeat, as the Chieftains have rattled off five straight victories.
The Paola-Louisburg game also has playoff implications. The winner gets the top seed in the East bracket, while the loser could slip anywhere from No. 2 to No. 4, though tiebreaker points shouldn't have them slipping further than No. 3.
If THS were to hold on to the No. 7 spot and advance to the second round of the playoffs, the team could have a rematch with Louisburg or Basehor-Linwood if either is the No. 2 seed in the final bracket. A Louisburg victory Friday could mean THS would play the only Frontier League it didn't face in the regular season in Paola if both teams advance.
Chasing 1,000
Senior running back Korbin Riedel is on pace to be a 1,000-yard rusher for the season.
The senior currently is at 898 yards on 171 carries. He's averaging 5.3 yards, with his longest rush being 48 yards.
He needs 102 yards to hit the milestone
In his first two games, he combined for 91 yard on the ground.
Since then, his lowest output has been 102 against Spring Hill and highest 251 against Piper.
Rare miss
Ethan Jacks missed his first extra point since Week 3 during Friday's victory against Baldwin.
The junior went 2-for-3 against the Bulldogs, missing his final attempt in the fourth quarter after hitting his first two.
On the season, he is now 13-for-17 on PATs.