Tonganoxie High soccer gets 2-1 senior victory against Eudora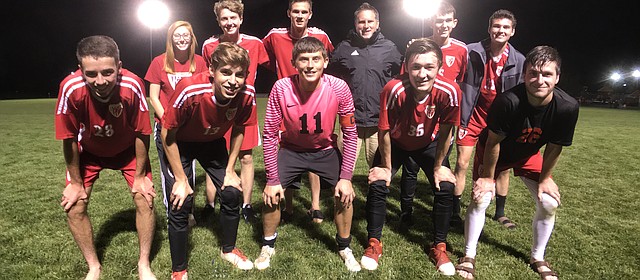 Tonganoxie High sent its veteran players out on a high note in their last home match.
THS defeated Eudora, 2-1, Thursday on Senior Night.
The Chieftains (6-6-1 overall and 3-4-0 in Frontier League play) got out to a 2-0 lead in the first half and held onto it. The Cardinals scored once in the second half, but THS didn't allow an equalizer.
Abel Mendoza and Desi Wagner scored for Tonganoxie.
Seniors Jared Bothwell, Garrett Eason, Kiowa Witt, Wyatt Marting, Logan Freeman, Quinton Landrum, Gage Sommer, Matt Perich and Jacob Boone all were recognized at halftime of the match.
Tonganoxie finishes off the regular-season schedule at 4 p.m. Friday in Atchison against Maur Hill Mount Academy.
The victory also snapped a two-match losing streak for THS. The team lost, 1-0, against Ottawa on Oct. 4 at home and then lost Tuesday against Seaman, 3-0, in Topeka.