Tonganoxie Spooktacular is Friday; Skeleton Scavenger Hunt underway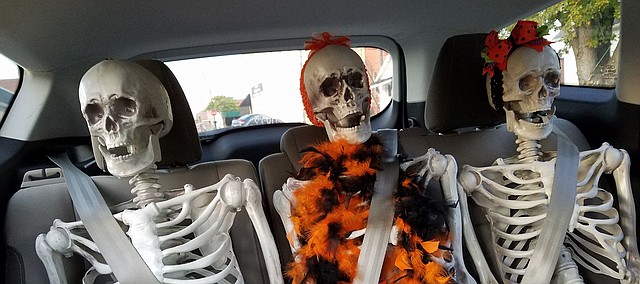 Arguably the biggest event in the downtown Tonganoxie area is back next Friday.
Spooktacular is 6-8 p.m. next Friday, Oct. 26, and is expected to have another big crowd. The event has drawn more than 1,250 each year. Spooktacular is a collaboration of businesses, nonprofit organizations, civic and city resources coming together to create a safe Halloween experience for young and old. Spooktacular draws more than 75 entities together to provide candy, trinkets, games and a safe environment for youths of all ages.
The Spooktacular committee is asking for donations of candy or money to help make the event a success. Organizers encourage participation as well. Businesses and organizations also are encouraged to pass out candy while displaying a banner or signage. Space will be assigned to showcase the business or organization along the Spooktacular route along Fourth Street.
Businesses or organizations should consider purchasing candy for at least 1,250 children if they plan to hand out candy. Candy also can be donated by dropping it off at the Tonganoxie City Fire Department.
There also is a Skeleton Scavenger Hunt that started today.
Here are the rules for the hunt.:
There will be skeletons available to the first 270 participants.
The hunt begins on Friday, Oct. 19, and ends Oct. 25. The scavenger hunt will not go outside of the Tonganoxie city limits. Multiple clues will be given that will lead you to the next hint as to the business where another clue or a bone will be given. Once the skeleton is complete and turned in you will receive a mini pizza coupon from Gambino's Pizza and then will be entered into a drawing for a chance at 1-$100 gift card or 15-$10 cash prizes donated by Skeet Real Estate.
The clues will be available on facebook.com/skeletonscavengerhunt every day starting at 3:15 p.m. Friday, Oct.19,
Clues will be available at each business only on the day announced for the times posted. Clue times will vary on weekend days.
There will be a clue on the door to take you to another business to get the next clue or bone. This event is meant for family fun and community activity.
Please have fun and scavenge on and remember to thank the participating businesses.
One skeleton per student, one prize per student and one drawing entry per student.
There will be only one make up/catch up day.