Eudora wins rematch against Tonganoxie, knocks Chieftains out of playoffs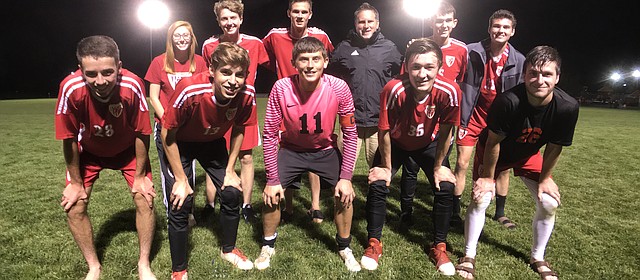 Tonganoxie High soccer went into halftime of its Class 4-3-2-1A regional opener Monday in Eudora in a scoreless tie.
But in a rematch of its season finale last week on Senior Night in Tonganoxie, Eudora had the upper hand in the second half.
The Cardinals won, 2-0, Monday, knocking the Chieftains out of the playoffs in the first round.
THS defeated Eudora, 2-1, Thursday on Senior Night.
The Chieftains got out to a 2-0 lead in the first half and held onto it. The Cardinals scored once in the second half, but THS didn't allow an equalizer.
Abel Mendoza and Desi Wagner scored for Tonganoxie.
Seniors Jared Bothwell, Garrett Eason, Kiowa Witt, Wyatt Marting, Logan Freeman, Quinton Landrum, Gage Sommer, Matt Perich and Jacob Boone all were recognized at halftime of Thursday's match. Monday's loss signaled the end of the high school soccer careers for the season.
Tonganoxie finished the season 6-7-1 overall and 3-4-0 in Frontier League play.
That regular-season finale victory snapped a two-match losing streak for THS. The team lost, 1-0, against Ottawa on Oct. 4 at home and then lost Oct. 16 against Seaman, 3-0, in Topeka.
On the season, Tonganoxie won by a goal five times, lost by one goal four times. The Chieftains also were shut out four times while holding the opponent scoreless three times.