New
U.S.

24-40 businesses open in Tonganoxie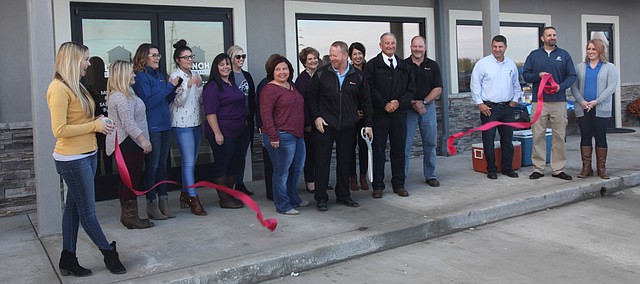 Balloons, barbecue and a giant inflatable replica Blue Rhino propane tank all part of a celebration Friday for a new business center in Tonganoxie.
Jeff Brandau, representing Tonganoxie Business Association, was on hand to help with a ribbon cutting for the new Lynch Real Estate and Ferrellgas offices in the business center, which is the former Sutton-Kolman Automotive building.
Dan Lynch, owner of Lynch Real Estate and developer of the building, said he was excited for the building's completion. He also has plans for a storage unit complex south of the business center and the McGee Meadows subdivision. The subdivision will feature high-grade duplexes and will include residential lawn care.
He also said he was glad to offer quality housing options under $200,000. The storage unit is expected to be finished in 2019 and the subdivision completely finished in the next three years.
The business center is just east of Brothers Market on U.S. Highway 24-40.
For Ferrellgas district manager Chad Burns, the new location is perfect for the company.
"This is where we need to be," Burns said, "Where customers can see us."
The company previously had a less-visible office on Front Street.
Susan Hiestand, customer service specialist, and Kathrine Miller, customer service manager, also were pleased with the new office for the company, which Miller noted has long had its roots in Kansas.
There are other tenants coming to fill the rest of the 10,000-square-foot center.
Cheeky Salon, Continental Title Company, JAB Homes and Pro Tech Plumbing all will be moving into the center.
New restaurant opens
Ajuua!! Mexican Grill and Cantina has been open a few days just down the road to the east of the business center.
The new restaurant opened in what was Mirth Cafe. That restaurant closed a few years ago.