Tonganoxie
USD

464 board discusses fundraising for possible field turf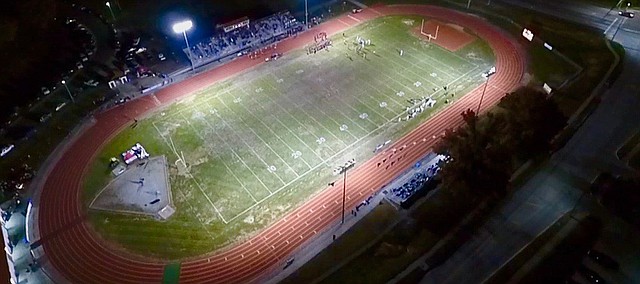 Tonganoxie school district officials are continuing to look into the practicality of installing artificial turf at Beatty Field.
USD 464 board members met with Superintendent Loren Feldkamp and Assistant Superintendent Tonya Phillips and school administrators during a special meeting Monday in the Tonganoxie High School library.
After a lengthy discussion about the merits of turf and how it should be handled as a priority with improving district facilities, the board agreed to look at the possibility of fundraising and the forming of a committee.
Board President Jim Bothwell said he wanted to get discussion out of the way on the topic so that the board could have some direction at the Nov. 13 meeting and not be spending considerable time at that meeting discussing the topic.
School officials stressed that the meeting was strictly to get possible options for funding the turf and not to come to a decision on installing turf.
Feldkamp discussed how other districts were financing their turf projects. From a district covering the full cost with district budget funding to a mix of capital outlay money and various donor and fundraising pledges, other districts have found different ways to fund turf.
During his presentation, Feldkamp listed some various groups, events and more that would benefit from the turf: Tonganoxie High School marching band, dance team, soccer team THS and Tonganoxie Middle School football, physical education classes, general education class, graduation ceremonies, community youth programs, community adult programs and economic development.
Because the turf would be more weather resistant and durable than natural grass, Beatty Field would be able to accommodate more events in a more concentrated time period.
As board members discussed the merits of getting turf, discussion would swing back to priorities and how the turf fit into the list of other needs.
Bothwell continued to voice concern about that sequence. He said he favored turf, but also had reservations considering the high school's science classrooms are outdated.
Board Vice President Chris Gratton agreed.
"A new field would reach a lot of people, touch a lot of people, but I guess if we get a turf field and we can't pass a bond and we're stuck with these dilapidated science labs, it's kind of embarrassing," he said. "If we could get the financing in order prior to engaging, so the district isn't on the hook for it, let's go for it. Let's get the tractors out there. Let's get started."
Fellow Board Member Kaija Baldock understood the concerns, but thought money still could be raised through fundraising and pledges toward a goal for new turf — whether it's a year, five years or 10 years away — while also working toward creating a bond issue proposal to address other facility needs in the district.
Activities Director Brandon Mellen noted that Tonganoxie likely will be the only Frontier League team without artificial turf, as Louisburg is in the process of getting turf and Ottawa is looking to head in that direction. Baldwin does not have its own field, but rents the stadium at Baker University in Baldwin. BU also has artificial turf.
He also said many other students would be able to use the field. Currently, the marching band can only practice once a week, but with turf, Charles Van Middlesworth's band could have far more field time.
Estimates for installing turf varied anywhere from $650,000 up to $1 million.