Hall of Fame incuctees announced for Tonganoxie Education Foundation's 2018 class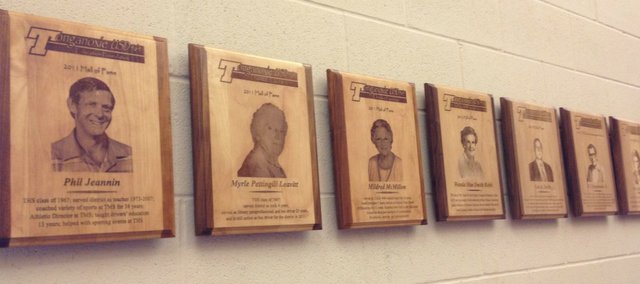 The Tonganoxie USD 464 Education Foundation will be inducting its ninth Education Hall of Fame as part of homecoming festivities Sept. 28.
Criteria considered by the selection committee include outstanding service to the district by teachers, administrators and staff; outstanding contributions to education in the Tonganoxie community by school board members and other citizens; and outstanding achievements in the field of education by alumni. This year also marks the eighth annual presentation of the Alumni Achievement Award. This honor will be given to a graduate of Tonganoxie High School who has demonstrated outstanding achievement in areas such as career, community involvement, service and family. Each honoree receives a plaque at the induction ceremony, with an identical plaque to be put on display near the Tonganoxie Performing Arts Center.
Hall of Fame honorees
Debby Reetz Wedel
Wedel attended Mackey Grade School and later graduated from Tonganoxie High School in 1970.
She furthered her education and graduated from Kansas State Teachers College, now called Emporia State University, in 1974. She received a bachelor's in elementary education with minors in early childhood and home economics. She later received her master's in early childhood education in 1986. Wedel's 29-year teaching career began in Shawnee Heights schools. She taught second grade for two years. Debby and husband, Dennis, married in 1974. She began teaching kindergarten for USD 464 in 1976. She taught for seven years before taking leave to care for the couple's three sons, Tony, Brett and Kyle, all of whom graduated from Tonganoxie High School. She later returned to teaching kindergarten until retiring in 2008. Wedel was a National Education Association member and served as a sponsor to student teachers from Emporia State University, Kansas State University, and the University of Kansas. In 2006, she was awarded the USD 464 Outstanding Teacher of the Year award. She is a member of PEO Chapter AT, Tonganoxie, and has served as a chair for Christian Education, Fellowship Committee, and along with her husband Dennis, they volunteer as coordinating members for Lawrence Interdenominational Nutrition Kitchen. She belongs to the Lawrence area reading council, Parent Teacher Association and Tonganoxie Education Association. Wedel has served on the Deacon's Board at Plymouth Church where she is a 50-year member.
Sarah Clayton Kettler
Kettler grew up in Fulton where she attended grade school and high school until it was consolidated by USD 234 into Fort Scott. She graduated from Fort Scott High School in 1968. She attended Fort Scott Junior College and received her Associate's Degree in 1970. She received her Bachelor's Degree in elementary education in 1972 and her Master's Degree in 1975 from Pittsburg State University. She married Hubert Kettler in 1971.
She began teaching first grade at George Nettels Elementary in Pittsburg and taught there for three years. They moved to Tonganoxie because of Hubert's job transfer and Sarah began teaching at USD 464 in 1975. She taught second grade for 29 years. She served as grade level chairperson for many years and as a mentor to new teachers.
She was a member of the National Education Association, Tonganoxie Education Association, Lawrence Area Reading Association and was nominated to Who's Who Among American Teachers. Kettler is office manager for Kettler Construction, a member of Tonganoxie PEO Chapter AT, Tonganoxie Community Historical Society where she gives presentations at the Honey Valley School and volunteer at the Good Shepherd Thrift Shop and Food Bank. She is an active member of the Tonganoxie United Methodist Church. Hubert and Sarah have two children, Lara and Jill, both of whom graduated from Tonganoxie High School, and five grandchildren.
Larry Meadows
Meadows grew up in Caraway, Ark., and graduated from high school in 1960.
He soon moved to Kansas to begin a career in construction, working on missile sites.
On Oct. 5, 1962, Larry Meadows and Lois Ward were married in Leachville, Ark. In 1966, Meadows joined the U.S. Army Reserve unit in Kansas City, Kan. Two years later, the unit was activated. From 1968-69, he served a tour of duty in Vietnam. In 1977, he and Lois started Meadows Construction, a heavy construction company that they owned and operated for 28 years. Meadows worked on projects to improve the community, such as the task force to widen U.S. Highway 24-40 from two lanes to four lanes from the Wyandotte County line through Tonganoxie. He also was active in economic development in the community. He served on both the Leavenworth County Planning Commission and the Tonganoxie Planning Commission. He also was a member of the Tonganoxie Chamber of Commerce. He was a charter member of VFW Post 9271 and a member of the Kansas Commission on Veterans Affairs, appointed by the governor of Kansas. One of the projects he was most passionate about was the development of the VFW Park in Tonganoxie. With the help of the Tonganoxie community, the property was transformed into a beautiful park that is enjoyed by the area residents. In November 1999, Larry and Lois's oldest daughter, Lori Meadows Copley passed away. The following year, the couple helped build Tonganoxie's Chieftain Park, and Larry was happy to install a walking trail, known as Lori's Path, around the park.
Through the years, Larry spent many hours working on school facilities for USD 464. His projects included work on the Beatty Field football field, drainage projects, the press box and concrete for the bleachers, along with the installation of a new track in 1998. Along with his many duties,
Larry was chairman of the board of Maple Grove Cemetery and was instrumental in major improvements to the cemetery. He also served 12 years on the board of trustees of Leavenworth Jefferson Electric Cooperative, now named Free State Electric Cooperative. Meadows died this summer and through the end of his life, he continued to dream of projects that would make Tonganoxie a better place to live.
Dr. Richard Dean
Dean is from Kokomo, Ind. There he received his early education and graduated from Kokomo High School in 1959.
He later attended Indiana University and graduated with a doctorate degree in optometry in 1966.
He served in the United States Army and attended medical basic training at Fort Sam Houston in San Antonio and was later stationed at Fort Riley for two and a half years, serving as an optometrist. He then began practicing in Manhattan, Kansas, and Kansas City, Kansas, commuting between the two cities. Richard married Martha Griffith Dean in 1972. In 1974, he opened the Dr. Richard Dean Optometrist practice in Tonganoxie. He is still practicing. Dean has served as a chairman for Kiwanis and later Tonganoxie Civic Club Blood Drive since 1973. He served as Lieutenant Governor for the Kiwanis Division II. Richard and Martha have served on the Tonganoxie Library Building Committee. He supports and sponsors youth sports at the Tonganoxie Recreation Commission. Dean served on the Tonganoxie USD 464 Board of Education for 12 years from 1996-2008. He then served on the Bishop Ward School Board. Dean is a member of Sacred Heart Catholic Church in Tonganoxie. Richard and Martha have five sons, Tom, Matt, Evan, Pat and Mark, all of whom graduated from Tonganoxie High School.
Alumni Achievement Award
Bill New
Bill New attended grade school at Faulkner School House.
He graduated from Jarbalo High School in 1958 (later consolidated into Tonganoxie USD 464). He attended Kansas State University where he received a Bachelor's Degree in agriculture economics. He later received a Master's Degree in economics from the University of Missouri-Kansas City. He married Loris Coonrod New in 1964. They have four children, Jilinda, Damon, Shawna and Brandon. Bill and his family own and operate New Haven Angus. New began working at First State Bank in Tonganoxie in 1966. He has worked at the bank for 52 years and is currently chairman. During that time, the bank expanded to seven locations. He also served two terms on the Tonganoxie School Board and during that time served as an officer, including president. He currently serves as trustee on the Kansas 4-H Foundation Board and as a member of Kansas State University Dean of Agriculture Advisory Board.
New is a lifetime member of the High Prairie Community Church where he has served in numerous capacities.