Tonganoxie, McLouth, Basehor-Linwood celebrating homecoming this week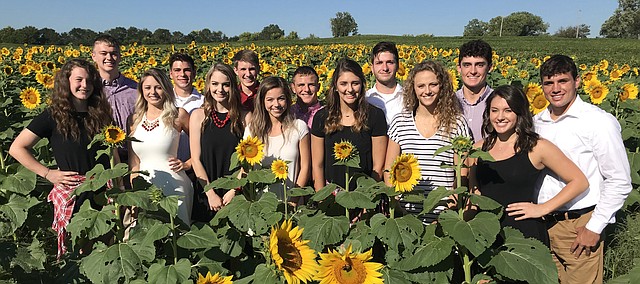 Homecoming week is in full swing.
All three local high schools are having homecoming festivities this week.
Activities started Monday for Tonganoxie, McLouth and Basehor-Linwood, with parades planned for Friday in all three communities.
Here's a closer look at plans for each school:
Tonganoxie High School
THS got the week started with Sports Day on Monday. Tuesday was Twin Day, while today has been designated as Career Day.
Thursday is Senior Citizen Day and Friday will be the traditional Red/White Day.
Various organizations, fall teams and classes will be riding floats and vehicles in the parade, which will be 2 p.m. Friday in downtown Tonganoxie.
The band, as well as Chieftain Stars dance team and THS cheer squad will perform.
Homecoming candidates will speak, as will seniors from various teams.
A reception for Tonganoxie Education Foundation Hall of Fame inductees will start at 3:30 p.m. at the Tonganoxie Community Historic Site. Tributes will start at 4 p.m. The reception is expected to finish up about 5:30 p.m.
Crowning of king and queen will take place before the game. Kickoff is 7 p.m. at Beatty Field, as THS will take on Piper.
Queen candidates this year are Taylor Knipp, Corinn Searcy, Bailey Bradley, Avery Moritz, Savannah Kovar, Brooklin Maas and Maureen Wetta.
King candidates are Drake Pray, Gage Sommer, Hayden Robbins, Joshua Bosley, Blake Phillips, Calvin Morgan and Korbin Riedel.
McLouth High School
McLouth also is in the middle of homecoming festivities.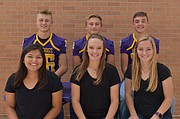 Various events have been planned for MHS and the community throughout the week, with the homecoming game Friday against West Franklin at Stan Braksick Sports Complex.
The theme is Fry the Falcons.
For Dress Up Days, Monday was Sports Day, Tuesday was Twin Day and today is Career Day.
Thursday is Meme Day and Friday is Purple and Gold Bulldog Spirit Day
MHS also will have its Buff-n-Tuff Volleyball at 6:30 p.m. today in the Gold Gymnasium. Powderpuff Football, Scavenger Hunt and bonfire will follow at Stan Braksick Sports Complex.
On Friday, there will be a talent show in the auditorium before the parade. The parade will leave the school at 2:15 p.m. A tug-of-war, pep rally and candidate games will take place at the football field.
Queen candidates this year are Julia Johnston, Madison Pope and Kimi Patterson.
King candidates are Asher Robbins, Jeremy Carlton and Garrison Pope.
A dance will be Friday after the game.
Cost is $5 per student or $8 per couple. There will be sandwiches, chips and drinks provided.
Basehor-Linwood
Basehor-Linwood will have its homecoming parade 6 p.m. Thursday. Floats will line up at Holy Angels Catholic Church.
BLHS will play host to Turner at 7 p.m. Sept. 28 for the homecoming game.