Sample graces football cover as
THS

garners early attention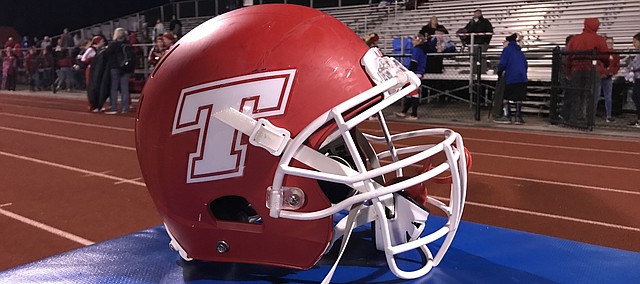 Kansas Pregame recently published its 2019 football guide and a THS senior graces the front page.
Lineman Cole Sample is one of 18 seniors included in the publication's "Big Men on Campus" feature, highlighting them as the top players in the Class of 2020.
Sample has received a track offer from Kansas and football and track offers from Pittsburg State.
THS ranked in preseason polls
Kansas Pregame K Preps and Catch-It Kansas all have Tonganoxie among their top Class 4A teams.
Kansas Pregame ranks the Top Five teams in each and then list the next five as "others" in alphabetical order. THS was in the list of the next five teams. That was the same scenario with K Preps, with THS in the "others considered" category after the Top Five.
Catch-It Kansas lists THS as No. 10 in 4A.
Bishop Miege is ranked No. 1 and McPherson No. 2, according to Catch-It Kansas.
The Chieftains will play two teams ranked in the Top 10 this season in the first two weeks of the season. THS opens at home Sept. 6 against archrival No. 8 Basehor-Linwood and then is on the road Sept. 13 against Frontier League foe and No. 7 Louisburg, per CIK rankings.
Defending Frontier League champion Paola is ranked No. 5 in CIK, but the Chieftains and Panthers don't play in the regular season. That also was the case in 2018, but the teams eventually met in the postseason. Paola knocked THS out of the playoffs in the second round.
K Preps has BLHS as the No. 3 team in 4A, with Louisburg, Paola and THS all in the next five "others considered."
THS went 7-3 last year, while BLHS was 10-2, Louisburg 10-1 and Paola 9-2.
More preseason nods for THS players
Catch It Kansas has two Tonganoxie players on its preseason watch lists.
Sample is No. 8 on the defensive linemen list. Sample had 72 tackles, seven for losses in 2018 as a junior. Connor Searcy is No. 21 on the linebacker watch list. The senior was injured during the 2018 season, but registered 73 tackles, 16 for losses during his sophomore season.
Midco Sports announces TV schedule
Tonganoxie will be featured on Lawrence's Midco Sports Network in October.
The Tonganoxie-Piper game Oct. 4 at Beatty Field will be featured in a live broadcast that night on MSN.
Fans can scout some Piper and a couple other Frontier League foes earlier in the season on the local station.
Piper vs. Eudora on Sept. 6 will be the first game of the week, while Baldwin vs. Piper will be featured Sept. 13.
Other MSN Friday night games are Shawnee Mission North vs. Lawrence on Sept. 20, Olathe Northwest vs. Free State on Sept. 20, Olathe Northwest vs. Lawrence on Sept. 27, SM South vs. Lawrence on Oct. 11, SM East vs. Free State on Oct. 18 and Free State vs. Lawrence High on Oct. 25.