Tonganoxie couple to compete Saturday at Monster Jam in Arrowhead Stadium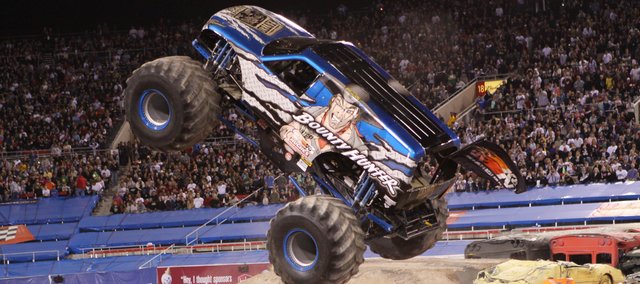 A seasoned Tonganoxie husband and wife who are big stars in the monster truck circuit will be competing in their own back yard this weekend.
Jimmy and Dawn Creten, known as drivers of monster trucks Bounty Hunter and Scarlet Bandit, will be operating their giant trucks Saturday at Arrowhead Stadium.
Jimmy Creten recently won the Monster Truck World Finals XX this past month in Orlando, Fla. He won the racing event at the world finals, which were May 10 and 11 at Camping World Stadium in Orlando.
There were several other competitors crowned in other categories at the World Finals as well in Orlando: two-wheel skills, speedster racing, ATV racing, speedster obstacle course, high jump, freestyle and showdown winner.
The rural Tonganoxie couple appeared Tuesday morning on KSHB 41.
A host of the local NBC affiliate's "Kansas City Live" morning show interviewed the couple about their history competing in monster truck racing and the upcoming opportunity to compete in front of the home crowd at the home of the Chiefs.
Jimmy started competing in 1994, while Dawn kicked off her career in 1998 in the monster truck circuit.