Monster Truck event rolling into Tonganoxie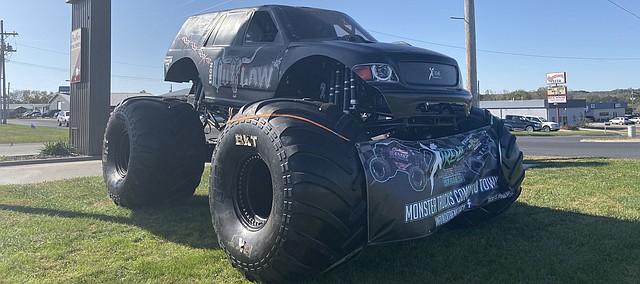 Some mighty big trucks are popping up in front of Tonganoxie businesses.
The monster trucks are a reminder that, for the first time ever, 2Xtreme Racing's Monster Truck Series is coming to Tonganoxie.
The event will start at 3 p.m. Saturday at the Leavenworth County Fairgrounds.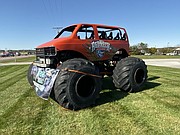 This weekend's show will feature national TV monster trucks, including two-time world champion Bounty Hunter, Scarlet Bandit, Iron Outlaw and Jekyll and Hyde.

The truck series event will feature Quad Wars, as Team Kansas will take on Team Missouri for the season championship.
Hot Rod Bobby Cox "The Monster Truck Clown" will be on hand, and youths also can be part of the action on a smaller scale.
Parents can bring a Power Wheel and enter their children in the Power Wheel races.
Youth Power Wheel racers can call 913-940-7786 to reserve a spot early (youths ages 3-9 are eligible).
Fans also can buy a ride on monster truck Redneck Road Trip.
Gates open at 1 p.m.
VIP Pit Party Starts at 1 p.m., while the general admission pit party starts at 1:30 p.m. The VIP pass is free with with price of VIP admission. Fans can come early and enjoy the up-close experience to get photos and autographs with their favorite monster truck drivers.They also can have access to buy a ride on a real monster truck before the show starts.
The show will run 3-5 p.m., with post-show autographs also available.
Advance general admission tickets are $15 for adults or children.
VIP pre-sale is $20 for adult or child. It allows fans to skip the ride truck line and entry line, exclusive access to the pit party from 1-1:30 p.m. and provides reserved front and center seating.
Children 2 and younger get free admission.
Advance ticket prices may fluctuate based on current ticket supply and demand.
Tickets can be purchased online at tonganoxiemonstertruckshow.com or purchase tickets at Brothers Market in Tonganoxie.
Brothers Market is at 319 Ridge Street, Tonganoxie.
You can also purchase tickets at the gate day of the show. Ticket prices are higher at the gate. Those tickets are cash only and all ticket sales are final.
Food, drinks and monster truck merchandise will be available for purchase at the fairgrounds.
For more information, visit the 2Xtreme Racing Facebook page or bountyhunter4x4.com.