Tonganoxie City Council will not pursue mask ordinance after discussion of mandate draft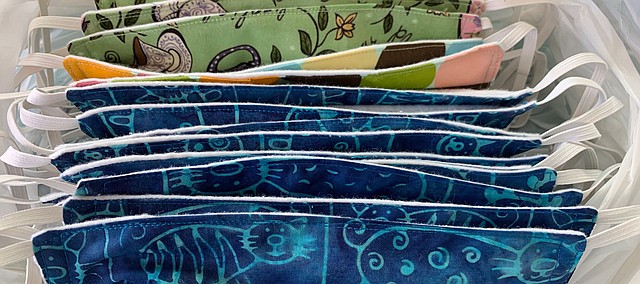 The City of Tonganoxie will not pursue a mask ordinance.
City Council members heard from city staff about an ordinance draft they drew up after Mayor David Frese brought up the issue at the last meeting Aug. 3.
Council Members Rocky Himpel and Chris Donnelly raised concerns about the ordinance, while Police Chief Greg Lawson also provided input. No vote was taken and the issue essentially died. Himpel questioned whether it was necessary because Tonganoxie active cases have declined, was concerned it would hinder businesses and contended that the ordinance had too many loopholes. Donnelly was concerned that residents in their yards not wearing masks could be cited, but City Attorney Anna Krstulic said the ordinance wouldn't apply to those cases because the mandate would apply to public spaces.
Council Members Jake Dale and Loralee Stevens weighed in on the subject later in the meeting during city council member agenda. Dale said, that, regardless of how a person feels about the mask debate, he was discouraged by the divisiveness that the topic has created.
"It is maddening to me that the idea whether you think it works, whether you think the virus is real or not, doing something so simple as wearing a mask to protect your neighbor is baffling to me," Dale said. "As a community and as a society, we can't come together and acknowledge that we should take care of each other to try to protect each other from the virus.
"I think it's equally maddening that such an issue has been placed upon the shoulders of unpaid volunteers (elected officials at the municipal level). The chain of command above us has an us vs. them mentality."
Stevens concurred with Dale and thanked Himpel for his comments as well before reflecting on what her late father, longtime physician Phil Stevens, might think about the situation.
"What would my dad have done after 60 years (practicing medicine)? He would have said to wear your mask," Loralee Stevens said. "I want our town to be safe and to be healthy."
Krstulic and City Manager George Brajkovic explained the ordinance draft, noting that city officials looked at practices in other cities that instituted mask ordinances, such as Manhattan, Wichita and Topeka.
They also reached out to other Leavenworth County cities — Lansing, Basehor and Leavenworth — to determine what action, if any they've taken.
Brajkovic said that Lansing and Basehor haven't formally discussed a mask mandate. Leavenworth, meanwhile, has drafted and discussed it, but hadn't adopted it yet as of Monday night.
Krstulic said the Tonganoxie draft was similar to the one Leavenworth officials created, which included an initial warning and a progressive fines scale for multiple offenses.
Frese had voiced concern about school starting back up and an influx of people in the community, including a portion of the school district's faculty and staff commuting from other communities. He thought that looking at the mask mandate was one way to keep Tonganoxie COVID-19 numbers from spiking.
"We may have the wrong tool to achieve the means, but it's a starting point," he said.