Tonganoxie
USD

464 approves 2020-21 budget with 2-mill increase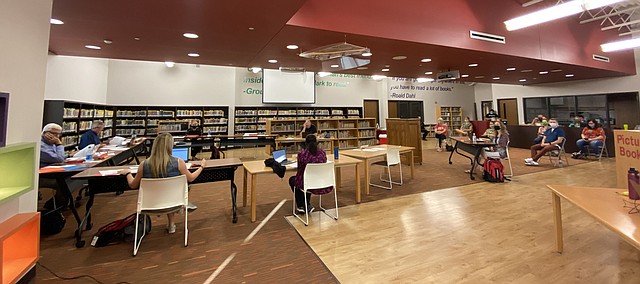 The Tonganoxie USD 464 budget for 2020-21 will see an increase of a little more than 2 mills.
School board members approved the budget during a special meeting Monday at the Tonganoxie Elementary School library.
The approved mill rate for 2020-21 is 62.596. Mill rates the past two fiscal years were 60.335 for 2019-20 and 60.415 for 2018-19.
As Board President Jim Bothwell noted during the meeting that the increase was due to bonds for the Tonganoxie High School project, which voters approved this past September through a mail-in ballot election.
The board voted, 7-0, for final approval of the budget at Monday's meeting.
Other action items
The board also approved, 7-0, the consent agenda:
• The latest list of district bills
• Donations since the last meeting: seven annual donations for the Beatty Field turf project totaling more than $25,000, $1,000 to the Tonganoxie Elementary School donation fund from the Greater KC Community Foundation, $400 to Tonganoxie Middle School from the RTI Survey Incentive Program and 24 engines from the KOHLER Company totaling $14,400 in value. The district will pay $90 in shipping and handling to receive the engines.
• Surplus items for disposal, a 1949 Bridgeport vertical milling machine and Atlas horizontal milling machine. The Bridgeport machine will bring about $60 in scrap money, while the Atlas is expected to bring $8. Proceeds will go to the capital outlay fund.
Personnel recommendations in school district approved
The school board also approved recommendations for various personnel as part of its consent agenda Monday.
Resignations were approved for Johnna Price, Luanna Lingo, David Schmidt, Hallie Moore and Courtney Wiehe, Tonganoxie Elementary School special education paras; Michelle Garner, Rabecka Reischman and Jalaine King, Tonganoxie Middle School paras; Stephanie Vermilve, mail carrier; Jenna Ast, TES fouth-grade teacher; Becky Derzinski and Tiffini Lang, regular route drivers; Lyndsay Hodge, TES classroom aide; and Kantina Crumet, TES student nutrition.
Contracts/work agreements were approved for Brady Field, THS technology support; Ashley Boor and Jan Isabell, TES special education paras; Chelsea Cornwall, TES fourth-grade teacher; Keyia Crute, TES student nutrition; Steve Bartlow, TMS science teacher; John Kiefer, TES student nutrition; and Cara Brown, TMS student nutrition.
Transfer was approved for Danielle Perry, TMS special education para to TMS/THS school nurse aide.
School starts next week
Tonganoxie USD 464 students will begin school next week, either through distance learning or in-person instruction.
Genesis Christian Academy has started classes.