Loomis: Chieftain baseball had big plans for milestone year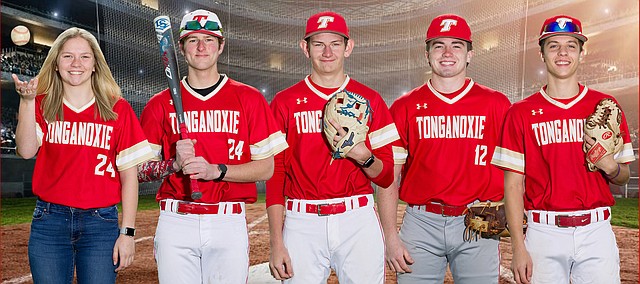 Editor's Note: The Mirror is asking spring sports coaches to pen open letters to their student-athletes, team parents and fans, or whomever they wish to address their open letters about their lost seasons due to the COVID-19 pandemic. The letters are being published in no particular order. Seniors on this year's squad were Nate Vandervoort, Jayden Wilson, Cooper Cunningham and Caeden Woods. Not pictured is Gabe Bundy.
Dear Chieftain baseball family,
An excerpt of this is from a message sent to the team the day we found out our season was canceled March 17.
"I don't really know where to start so I'll just start typing. As I'm sure most of you have heard we will not be playing baseball this season. My heart is broken and my spirit is crushed. I feel like I've lost a huge piece of who I am. This baseball program is my world outside of my family. To be denied a year of it is so hard to understand."
Three months to the day I wrote that to our kids, I still am not sure I have completely come to grips with not having a year of baseball.
This was such an exciting time for our baseball program and everything our kids have built to get to this point.
I am proud and honored to reach 10 years of leading this program as we entered 2020. Our program was entering the 30th season of Tonganoxie Chieftain Baseball as we had a celebration planned to bring back everyone that has been involved through the years to honor the legacy of this team. We have worked so hard and our players have committed to making Chieftain Baseball something they could be proud of, and something our community and school was proud of. These seniors were no different.
A group of five seniors and one manager were leading us into uncharted waters. As sophomores, they turned a four-win season into an appearance in the state semifinals. As juniors they would repeat as Regional Champions once again defeating the states No. 1 seed to reach our second consecutive state tournament.
As seniors, the expectations were high as they knew nothing different but getting to the state tournament.
They knew nothing other than being tough when the stakes were the highest. More important than any on field success, they are a collection of some of the finest young people in our school.
Genuine great kids who have future's so bright, that even a worldwide pandemic won't tarnish their spirit.
I at one point thought they were getting cheated out of leaving their mark on our baseball program,
But I was wrong.
These guys have shown for years now what it means to live our core beliefs: toughness, hustle and class. They continue to model those things every day because that is the kind of people they are.
To Cooper, Caeden, Jayden, Nate, Gabe and Allison; I can't thank you enough for your selfless dedication to our program. We all know something that has been around 30 years is bigger than any one individual. But time and time again you guys have given yourself to this team and our family.
I could write pages of examples of all of these guys and a time when it wasn't easy and they found a way to succeed. A time when they made a decision to not worry about what happened, but more importantly how they reacted. 10/90. There is no pride greater than to have special student-athletes call you coach and know you are a small part of their journey.
I am so proud of the young people you've become and I consider myself blessed for having all of you in my life.
I can't wait to see what your future holds and look forward to following along the way.
Thank you again to you and your families, you all have truly enriched my life in a way that I will never take for granted.
"When life gives you bad hops, make great plays."
Sincerely,
Coach Loomis