Bonner Springs game canceled for Tonganoxie High football;
THS

now set to host 6A's Shawnee Mission East on Oct. 16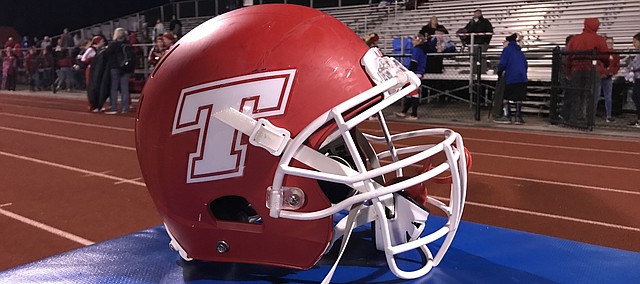 Tonganoxie High get to know another new opponent this year.
THS now will play Class 6A school Shawnee Mission East at 7 p.m. Oct. 16 at Beatty Field.
The Chieftains picked up the game Wednesday after it was announced Bonner Springs could not play in Week 7 of the 2020 football season due to COVID-19 restrictions.
THS officials are replacing the Bonner Springs game with a clash with SM East. The Lancers are 1-2 on the season, as they did not play the first two weeks of the season due to earlier COVID-19 restrictions.
Positive cases and sizable quarantines have caused the schedule changes.
That Oct. 16 game will mark the third week in which a game has been moved to a different date, a new opponent needed to be scheduled or both.
THS defeated Piper this past Saturday, 29-0, The game originally was to be played the day before, but it was postponed due to Piper payers awaiting COVID-19 test results. Tests later came back negative, and the game was moved to 5 p.m. this past Saturday.
This week's game at Spring Hill was shelved due to SHHS needing to quarantine. Enter Southern Boone, a school in Ashland, Mo., comparable in size to Tonganoxie. Kickoff is set for 2 p.m. Saturday.
Like Tonganoxie, Southern Boone enters Saturday's game with a 4-1 record. The Eagles will be traveling nearly 3 hours for the interstate matchup.
As of now, the regular-season finale will be Oct. 23 at Ottawa. The Cyclones are 1-4 overall and 1-4 in Frontier League play. THS is 3-1 in Frontier League games.