Remember When: A Community Review for Aug. 4, 2021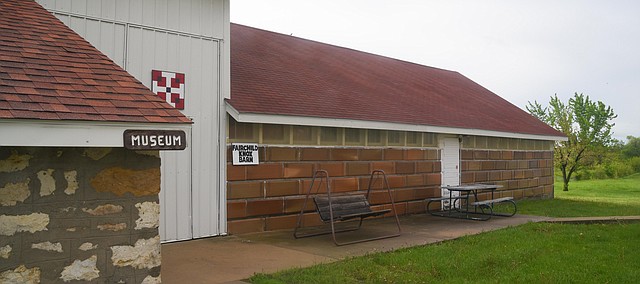 25 years ago: Aug. 7, 1996
Threshing Bee draws 7,000. It's the way it used to be. It's part of agricultural heritage. It's a loud hot steam blowing blowout. It's amazing that farmers who used the machinery got as much work done with the contraptions as they did. The McLouth Threshing Bee threw its steam engines in high gear on Friday, as the 39th annual celebration took place.
Saturday's events at the McLouth Threshing Bee included a sheep dog exhibition by Pam Wolf, Leavenworth. Wolf said most of her dogs had trouble hearing commands due to noise from steam engines just up the hill.
One of the first events to take place this year during the Leavenworth County Fair was the 4-H Horse Competition. Thirty-one 4-H members competed.
50 years ago: Aug. 12, 1971
When Mr. and Mrs. Hi Bryan bought a farm alongside Big Stranger Creek in Leavenworth County, north of Linwood, he began to attend flood control meetings in the valley and stir things up. After severe and extensive overflows, he would show up at the meetings. He became acquainted with local farmers in the valley and government plans on flood control, including the army engineers. Because of people like him, floods have been reduced in Stranger Valley and along the Kaw. He died last week and was buried at Tonganoxie. Hi was respected and admired by many who became acquainted with him.
75 years ago: Aug. 8, 1946
The polio scare continues to affect outdoor gatherings and social events. This time it was at the Monroe Brothers circus out at the fairgrounds, where the crowd was smaller than expected. John Cass Lenahan and Virgil Morey dressed as clowns and sold popcorn. A toothless old lion was the "mane" attraction.  
Sad news to report out of Topeka where the five-year-old boy, Robert Freienmuth, has died from infantile paralysis, better known as polio. His mother reported that she was staying with him at the hospital when he stated "I can't breathe." All means of resuscitation were used but the small child did not recover. Three other young people from surrounding communities have been diagnosed. It's hoped that the next few weeks will bring about an end to this disease. Meanwhile, parents are taking any and all precautions that they can.
The new four-lane highway north of Tonganoxie runs close to Delaware Chief Tonganoxie's lodge.  Perhaps the state should erect a sign pointing to this historical location for the thousands of travelers who may pass by in the future.
Pulver's Ready to Wear shop is opening in the space next to the post office. They have early fall dresses ranging in price from $3.80 and up. You will remember the Pulver's as they owned a nice restaurant here in town.
Jahn Super Mart has opened in the space formerly known as Raymer's Market. They welcome all to shop there and are running some nice specials for opening day. Bob Lenahan, son of Pat Lenahan,  is a meat cutter at this location.
A mighty campaign being advertised in the New York Times, Forbes and Modern Industry newspapers has launched. These messages are inviting more and more industries to establish themselves in Kansas. The Sunflower of our prairie is sprouting new wealth across the state and it's good for everyone!
100 years ago: Aug. 4, 1921
The Kansas City Northwestern Association, which was organized at Topeka last spring to try to devise a plan to rehabilitate the KCNW, has had to give up their first plan, which was to get the Chicago Northwestern to buy our orphan.
The prospects of getting the Northwestern running soon if at all do not look very promising. Apparently more short line roads are going out of commission than are being rehabilitated.
In another year Tonganoxie will not miss the Northwestern so very much, as it will have the hard surface road to Kansas City, and the other large towns of Lawrence and Leavenworth. But other towns along the line will not be so fortunately situated.
125 years ago: Aug. 6, 1896
The annual school meeting last Thursday passed off peaceably, and lasted longer than usual. Women were in the majority, but the men did the most talking.
The reports of the clerk and the treasurer were read and as there was a difference of $10 Between them, a committee of three was appointed to take the kink out of the tangle. After a short investigation the error was found.
One of the former school directors, A.A. Moody, presented a bill for $50, for personal expenses incurred in defending the action of the school meeting of 1888, in declaring for a separate school. A committee of three was appointed to audit the account.
Three candidates were nominated for district treasurer, and on balloting C.J. Halsted having received the highest number of votes, was declared elected.
A nine-month term of school was voted, but this action was afterward changed to eight months.
The levy was increased 2 mills this year, and went as far as the law will allow 20 mills. Sixteen mills of this is for teachers' wages and general purposes and four mills for sinking fund for building a new school house.
The school board was instructed to have a male principal with a first grade certificate. The matter of employing a fifth teacher was left optional with the board. A lady suggested that in view of the hard times and the overcrowded condition of the school in nice weather, that the primary department be divided, and half the children attend in the forenoon and half in the afternoon. Objection was made to this by someone else, because some people send their children to school to get rid of them, and would not like half day sessions in consequence. Children under age and outside the district were being sent to the school, which had something to do with the overcrowding.
The school board was instructed to have set out not fewer than 100 shade trees in the school yard, and box them to prevent destruction.
The proposition of building a new school was discussed some, and several motions and suggestions were made in the matter. It was decided to have the board appoint a committee of three relative to calling a special meeting and voting bonds.
The school board met last Thursday to consider applications. The board was overwhelmed with applications, and three selections were made.
Ambrose White, Leavenworth was chosen as principal. Miss Davis, of Holton, who taught here last season, was chosen to teach the primary department.
Mrs. Dias of Lawrence, was also chosen.
but no department has yet been assigned to her. She was formerly Miss Perky and has had years of experience in this county.
Mrs. LM Spray was also selected as one of the teachers. She has had many years of experience, and ranks among the country's best teachers. The board decided to open school Sept. 14 and will close school in May.
The article went on to name the teachers appointed to the various districts in the southern part of the county.