Robert "Bob" Adams 1939 - 2008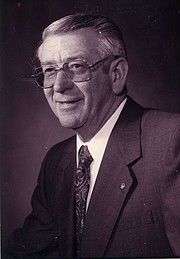 Services for Robert L. "Bob" Adams, 69, Leavenworth will be 10 a.m. Thursday, July 10 at the First Baptist Church, 13th and Osage streets in Leavenworth. Burial will follow in the Sunset Memory Gardens Cemetery.
Visitation will be from 4 p.m. to 8 p.m. today, Wednesday, July 9 at the Davis Funeral Chapel in Leavenworth.
Mr. Adams died Sunday, July 6, 2008, at Providence Medical Center, Kansas City, Kan.
He was born June 25, 1939, the son of Gilbert F. and Daisy (Arkebauer) Adams.
On Nov. 20, 1960, he married Suzann Elliott at the First Baptist Church in Leavenworth.
For more than 30 years, Mr. Adams owned and operated Adams Standard Service in Leavenworth. He served as president of the Leavenworth-Lansing Area Chamber of Commerce, was elected to the Leavenworth City Commission, the office of mayor and two terms on the Leavenworth County Commission and also served 23 years on the Cushing Hospital Board of Directors, 25 years with Kiwanis International and more than 30 years with the Fraternal Order of Eagles.
Always a farm boy at heart, he loved the simple things in life: a Royals' game, gardening, bird watching, bowling and good conversation. Most of all, he loved country music and dancing with his wife.
Mr. Adams is survived by his wife Suzann, of the home; two daughters, Lori Christoffersen and Karen Wilk; one brother, James E. Adams; and four grandchildren.
He was preceded in death by his parents and two brothers, John G. and William F. Adams.
Memorial contributions are suggested to the American Heart Association or the American Lung Association.