Ronald G. Starcher 1953 - 2008 Tonganoxie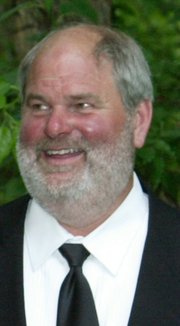 Services for Ronald G. Starcher, 55, Tonganoxie, will be 11 a.m. Thursday, July 24 at Tonganoxie Christian Church, 204 Washington in Tonganoxie. Burial will be in Hubbel Hill Cemetery.
Mr. Starcher died Saturday, July 19, 2008.
He was born April 19, 1953, the son of Billy G. and JoAnn Barnett Starcher. He graduated from McLouth High School in 1971 and was a 1973 graduate of Northeast Kansas Technical School in auto collision repair.
He married Vicki Walbridge on June 18, 1977, in McLouth.
Mr. Starcher was co-owner of S&S Body Shop in Tonganoxie for 35 years.
Survivors include his wife, Vicki Starcher, of the home; two daughters, Leslie Dohrn and Lindsey Starcher; one brother, Jerry Starcher, all of Tonganoxie; one sister, Dixie Jones, McLouth, and one grandson, Baron Dohrn.
The family will receive friends from 5 p.m. to 8 p.m. today, Wednesday July 23 at Quisenberry Funeral Home, Fourth and Delaware streets in Tonganoxie.
Memorials are suggested to the Susan G. Komen for the Cure, care of Quisenberry Funeral Home, P.O. Box 993, Tonganoxie 66086.
Condolences may be left for the family at www.QuisenberryFH.com.
Contact Quisenberry Funeral Home by phone: 913-845-2740