Jimmie Lambert 1937 - 2008 Neodesha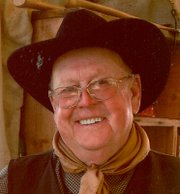 A memorial service for Lt. Col. Jimmie Lambert, 70, was held on Tuesday at Christ Church under the direction of Penwell-Gabel Loran Fawcett Chapel. Inurnment of the cremated remains will be held in Leavenworth National Cemetery at 1:30 p.m. today.
Mr. Lambert, of Neodesha, died Thursday, May 8, 2008, at his home.
The son of Fred and Opal (Noakes) Lambert, he was born July 22, 1937, near New Albany. He graduated from Fredonia High School in 1956 and later received his associate's degree from Labette County Community College. Mr. Lambert joined the National Guard following high school and transferred to active duty with the U.S. Army. While in the service, he did two tours of duty in Vietnam. He rose to the rank of lieutenant colonel, retiring in 1985.
Following his retirement from the military, he worked 16 years as Chief of Supply and Services for the U.S. Civil Service Office. He retired from the civil service at Fort Leavenworth.
He worked full time for 12 years as a police officer for the Tonganoxie Police Department. In his later years, he continued to work part time for the same department. For the past four years, he and his wife worked as volunteers for the National Park Services. While in that position, the couple worked the sea turtle rescue program in Texas. They also served in Montana where they gave historical accurate interpretive presentations at Grant-Kohr's Historical Site, which is the only working ranch in the NPS.
He was a member of the Congregational Church of Tonganoxie, the American Legion, the VFW Post 9271 and the Military Officers Association.
On Dec. 26, 1956, he married Geraldine Milner in Fredonia. They were later divorced. He was united in marriage to Juanita Blew on April 14, 1979, in Hutchinson. She survives at the home.
In addition to his wife, he is survived by six sons, Tim, Garry and Shawn, all of Neodesha, Ronnie, Ninilchik, Alaska, Paul, Memphis, Tenn., and Matthew, Edgerton; one sister, Terri Floyd of Fredonia; 10 grandchildren; and three great-grandchildren.
He is preceded in death by a brother, Bobby Lambert.
Memorial contributions may be made to the Jim Lambert Memorial Fund, which will be used for a special project for the National Park Service. These donations may be left at the funeral home.
To leave a special message for the family, please visit www.penwell.gabel.com.
Contact Penwell-Gabel Loran Fawcett Chapel by phone: 620-325-3038